If you're a proud owner of an Ulrich Shed, you already know the value of having a versatile space in your backyard. But what if we told you there's a simple yet brilliant addition that can take your shed to a whole new level? Well, we've got just the thing for you – transom windows in your Ulrich Shed! These little beauties are about to make your shed game stronger than ever. Get ready to fall head over heels as we share the top 10 reasons to love transom windows in your Ulrich Shed. Let's dive in, shall we?
Let There Be Light:

Brighten your shed and say goodbye to dark and dreary spaces! Transom windows are your ticket to a well-lit shed that feels like stepping into sunshine paradise. Who needs artificial lighting when you have glorious natural light through these windows?
Style that Pops:

Forget about ordinary, run-of-the-mill sheds. Transom windows are here to inject some serious style into your Ulrich Shed. These sleek and eye-catching windows add an element of sophistication that will have your neighbors green with envy. Prepare to be the talk of the shed community!
Air Flow Goals:

Let's face it, sheds can get stuffy, and that's no fun. But fear not, because transom windows are here to save the day! They provide excellent ventilation, allowing a refreshing breeze to flow through your shed. No more stifled air or unpleasant odors – just fresh air goodness.
Privacy, Please:

We get it; everyone needs their private space. Transom windows have got you covered! Placed high on the wall, they give you the perfect balance of privacy and natural light. Enjoy the best of both worlds, free from prying eyes, while bathing in beautiful daylight.
Efficiency for the Win:

It's not just about looks, folks. Transom windows also bring some energy efficiency to the table. By letting in ample natural light, you can save on electricity bills during the day. And that's not all – the improved airflow can help regulate the temperature, making your shed a cozy oasis all year round.
Customization Heaven:

One size fits all? No way! Transom windows offer a world of customization options. You can choose different styles, sizes, and designs to match your unique taste and shed's personality. Unleash your inner designer and create a shed that reflects your style. It's like having your very own shed fashion show!
Feel the Space:

Small shed, big illusion! Transom windows work their magic, giving the illusion of a larger space. Embrace the feeling of openness as your shed appears more spacious and expansive. Goodbye cramped quarters, hello freedom!
Timeless Elegance:

Trends come and go, but elegance always stays in style. Transom windows bring a touch of timeless charm to your Ulrich Shed. These classic beauties will always impress, no matter what the current shed fashion trends may be. Talk about a shed with everlasting appeal!
Just the View, Please:

Picture this – you're inside your shed, gazing through the transom windows at your beautiful garden or stunning landscape. Transom windows provide the perfect frame for those breathtaking vistas, giving you a picture-perfect view that will make you appreciate your shed even more. 
Inspiration Station:

Last but certainly not least, transom windows create a space that inspires and uplifts. The abundance of natural light floods your shed, stirring up creativity, productivity, and a sense of calm. Get ready to embark on your shed's creative journey and watch your imagination soar!
Considerations
Transom windows aren't just windows; they're a game-changer for your Ulrich Shed. They bring in natural light, improve ventilation, save energy, and make your space visually appealing. Whether you use your shed for storage, a hobby space, a home office, or a peaceful retreat, these windows can elevate the experience in countless ways.
If you've been contemplating making your Ulrich Shed even more fabulous, consider adding transom windows. You'll find yourself falling in love with your shed all over again, thanks to the charm, practicality, and ambiance these windows bring.
Transform Your Shed into a Sunlit Sanctuary with Our Free Transom Windows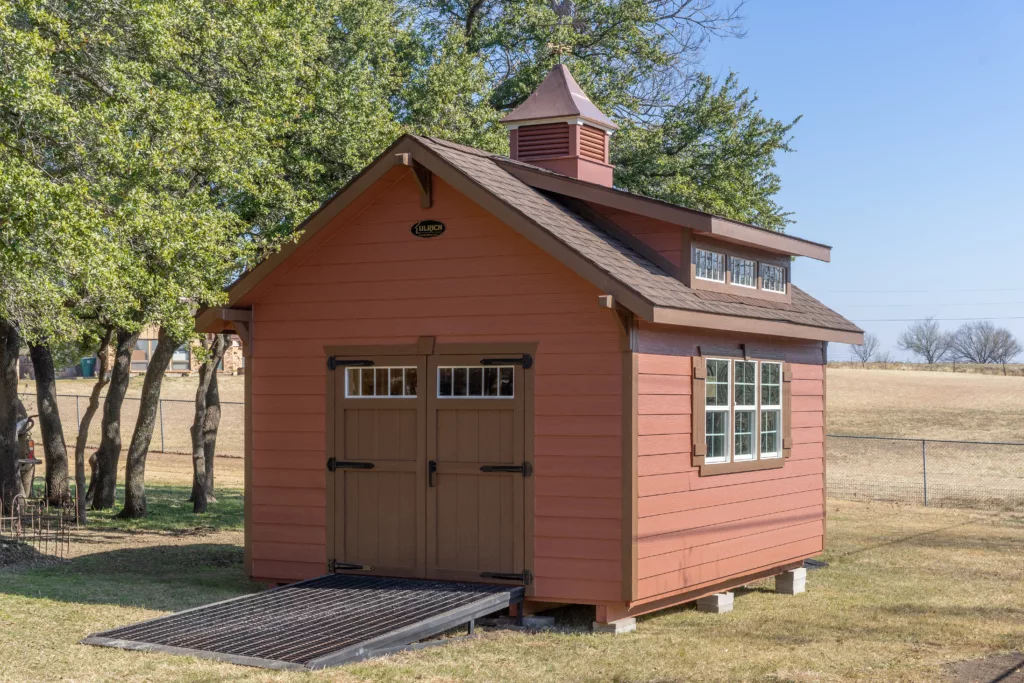 Now, here's the icing on the cake. When you grab one of our fabulous sheds, you'll get our fantastic transom windows thrown in for free. Yes, you read that right – FREE! It's our way of shedding light on the amazing difference natural light can make in your life.
Our transom windows are not just functional; they're stylish and built to last. They're the "wow factor" your shed has been craving, blending seamlessly with its design.
Get in touch with us today to take advantage of this limited-time offer. Embrace the warmth, energy, and positivity that these windows bring. It's time to shed some light on your shed game!