If your shed shopping experience uncovers products in a wide range of prices, you might be asking yourself, "What's the difference?" People buying a shed on a budget generally shop for price first. But a discerning buyer will dig a little deeper and compare the details. If you want to know the difference between a cheap shed and an expensive shed, here are a few things to look out for.
Buying a Shed on a Budget—What to Look For
The Customer Experience
No doubt about it, customer experience ranks number one when it comes to why shoppers do business with a particular company. It doesn't matter if you're getting the best product on the planet if the retailer has changed your delivery date three times. To find a shed company that gives great customer service look for a LEAF. A company that is Loved, Educated, Available, and Flexible.
Loved—People love companies that make a difference in the community. Check out your shed builder's social media page and see if there are any signs of relationship with their followers. Look them up on Google. Have happy customers left five-star reviews for this company on places like Google, Yelp, or Facebook? If not, maybe there's a reason.
Educated—Wise shed builders keep up with the industry. Their sales reps know the latest news about methods, materials, and local ordinances and are willing to educate you. When you purchase a shed at the big box store no one is there to tell you what your local officials will allow, or not.
Available—A company that offers an amazing customer experience will always have someone willing and able to answer your questions. Is your retailer available when you are? Can you send him a Facebook message or do you have to call the landline and leave a voicemail? An active chatbot on a website indicates a company readily available for their customers. These are important things to consider when shopping around. You want a retailer who is there for you.
Flexible—A shed builder who cares about your needs will allow you to customize your building. Want red siding instead of blue? You got it. Want to add another window? Not a problem. Maybe, you like the porch you saw on your neighbor's storage building. A flexible shed builder has no qualms about adding one onto your shed, too. Flexibility applies to more than the structure, too. Ask about delivery accommodations, foundation options, and even different warranty packages.
The Quality of Materials
Let's face it, some materials cost more than others. And the shed that costs $1,500 is probably constructed of the cheaper materials. A metal roof costs more than a shingle roof, for example. Also, vinyl siding adds to the cost.
If you want a wood-sided shed, engineered woods have a longer life and cost more than standard lumber. And paints formulated to last decades, or even a lifetime, like the Sherwin-Williams Duration paint we use at Ulrich Lifestyle, also cost more.
Consider the accessories included with your shed, as well. Windows, doors, workbenches, and lofts add to the cost of an outdoor storage building. You're probably not going to find a wired shed at a major retail store but if you want to be able to plug in your power tools, a custom shed builder can add that package for you, which will add to the cost.
The Construction Details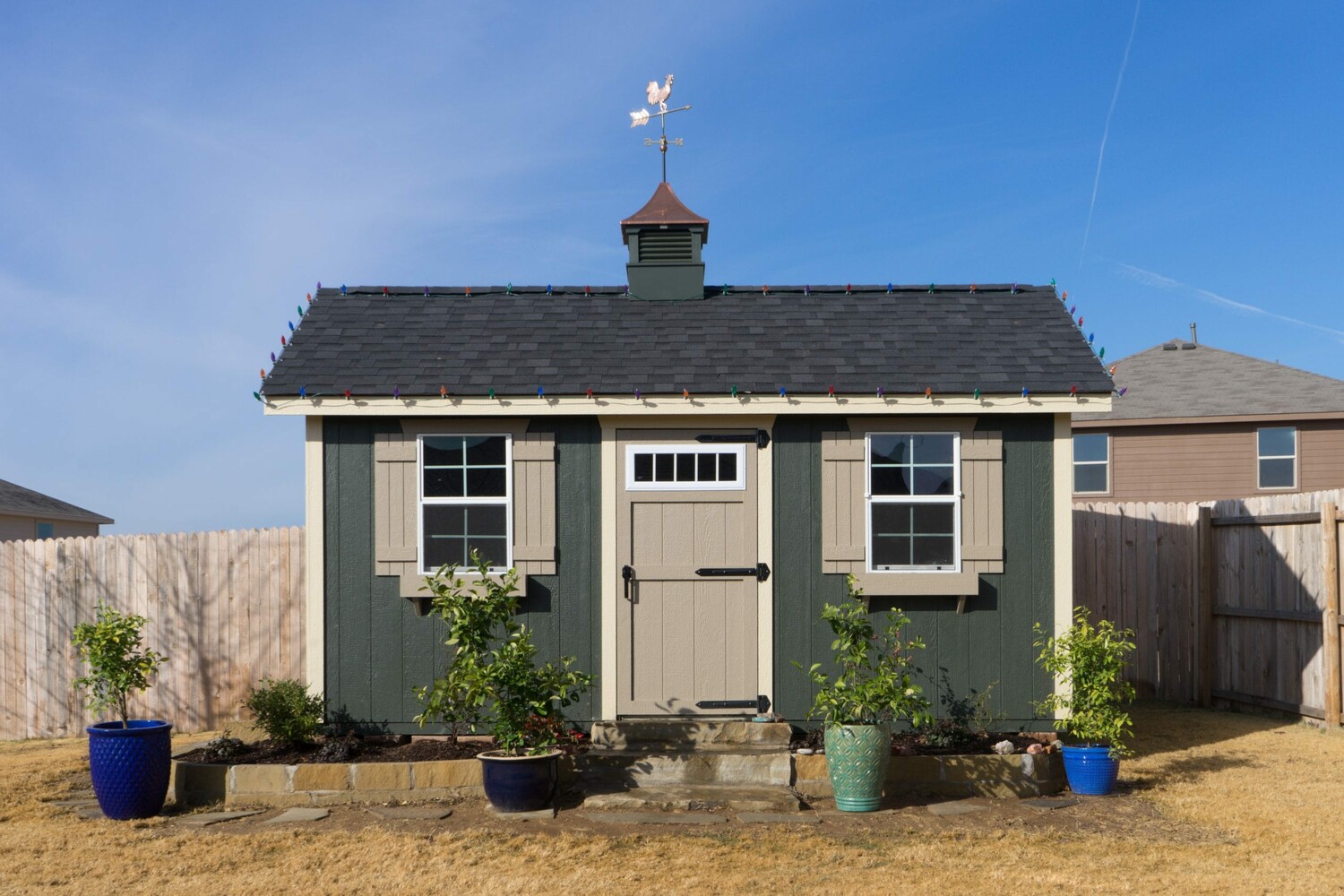 Just because a shed builder has the skill to build a quality shed doesn't mean they do. Some companies cut corners that Ulrich Lifestyle never would. If you want to understand why one shed would cost much more than another that looks so similar, compare them on these finer points.
Floor joists. Some shed builders claim to use pressure-treated lumber on their floors. However, they only use the pressure-treated wood on the outside skirting—what's visible—but use untreated lumber for the joists you cannot see. Ulrich Lifestyle uses pressure-treated lumber for the entire shed floor.
Rafter spacing. Roof rafters should be 16 inches apart. Some shed builders will space them 24 inches apart to cut costs on lumber. If you live in an area that gets snow, you want your rafters closer together.
Lapped double top sill. The top sill is the board that stretches along the top of a wall. Doubling it adds strength to your building. But some builders will use a thinner board on top to cut costs.
Filled corners. When two walls meet at the corner, a gap results. For added strength, and to provide a solid nailing surface for wall coverings, Ulrich Lifestyle fills that gap with an extra board. This, of course, adds to the cost of the building.
Sprayed paint. Most shed manufacturers apply paint to their wood-sided buildings with a sprayer because it's faster. But coverage of sprayed paint can be inconsistent, not filling cracks or covering nail heads. For the best coverage, a builder uses a roller on the siding and a brush on the trim for the thickest coat possible.
When you're buying a shed on a budget, you don't want to shop price alone. Because buying an inferior product only costs you more in the long run. Shop customer experience, materials, and construction and you'll get the best deal for your money.
If you have more questions about buying a shed on a budget, an Ulrich representative near you is ready with answers. After all, they're Loved, Educated, Available, and Flexible.