With a
custom, high-quality garage from Ulrich
, you can expand your storage space, protect your vehicles, increase the value of your home, and more. Considering a new garage for your property? Be sure to ask important questions regarding cost and timeline before getting started.
When consulting with a builder or designer, make sure you ask them: How long does it take to build a garage?
At Ulrich, we can build your new garage within the span of 3 months. Obtaining the proper permits, as well as planning and designing your garage, takes between 6-8 weeks, while the actual construction requires 1-2 months.
If you're planning on building a new garage, it's important to factor in the time it will take to complete the project. The size and complexity of your garage will affect how long it will take to build, but we can complete most projects within a few months.
What Could Impact the Building Timeline of Your Garage
There are a few different factors that can impact the building timeline of your garage. Here's what to keep in mind when planning to add a new garage to your property.
Obtaining the Right Permits
One of the first steps in building a new garage is to obtain the proper permits. Depending on your location, this process can take a few weeks to more than a month.
If you're unsure about the permitting process, we can help you navigate the requirements for your area.
Making Arrangements With Your HOA
If you live in a community with an HOA, you'll need to make arrangements with them before beginning construction on your garage. You will not be able to move forward without penalty before clearing this new construction.
Demolition and Site Preparation
Once you have the permits and HOA approval, the next step is to prepare the site for construction. This usually involves demolishing an existing garage (if you are replacing an old one), as well as grading and leveling the land.
Depending on the size of your property and the amount of work required, site preparation can take a few days to a week or more. You will need to arrange for any demolition and preparation before your garage is delivered and installed.
If you're planning to add any custom features to your garage, such as a loft or extra storage, this will add to the overall construction time. However, these features can be added after the garage is built if you want to save time during the initial construction phase.
When to Consider a New Garage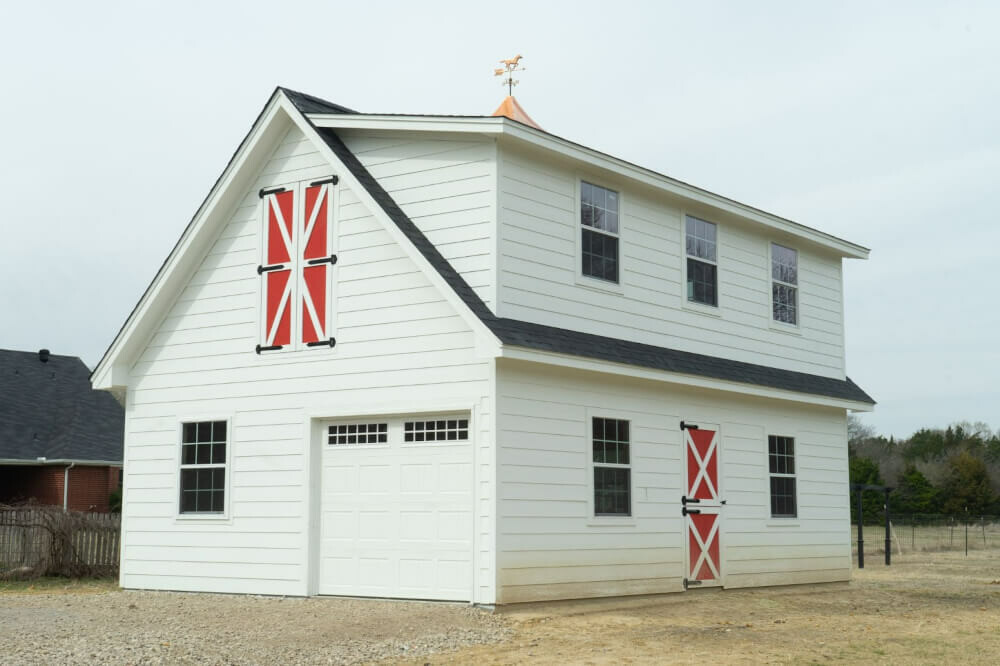 Adding a new garage is a big decision, and it's important to consider all of the factors involved before beginning the project. Here are a few things to keep in mind when deciding whether or not to build a new garage.
Whether you have a garage that's too small or you don't have one at all, adding a new garage can give you the extra space you need. If your current garage is cluttered and cramped, it can be difficult to find room for your car, let alone any of your other belongings.
A new garage can provide you with the additional space you need to store your belongings, work on projects, or park your car.
You Want A Private Place to Yourself
A new garage can give you the privacy and space you need to work on projects, store your belongings, or just relax in your own personal haven. You can use part of your new garage as a private home office, workshop, or exercise room.
You Want to Increase the Value of Your Home
Adding a new garage can also add value to your home. If you're planning to sell your home in the future, a new garage can be a selling point for potential buyers.
We'll Design and Build A New Garage Just For You
No matter what your reasons for wanting a new garage are, we can help. We'll work with you to design and build a new garage that meets your specific needs and budget.
If you're ready to get started on your new garage, contact us today. We'll be happy to answer any of your questions.
Contact our design team now!