Looking for a starter home, vacation rental, or hunting lodge? A prefab cabin is the perfect solution. Log cabins from Ulrich are built with the highest quality materials and exceptional craftsmanship so you can enjoy the rustic charm for years to come.
When planning to install a log cabin, it's important to ask: "How long does it take to build a log cabin?"
When you buy a log cabin from Ulrich, it typically takes between 10 and 12 weeks for our team to build, deliver, and install your new structure. Other builders may need as many as 40 weeks to build and install a log cabin, and DIY cabin kits can take even longer depending on your experience level and availability.
With a log cabin from Ulrich, you'll benefit from expedient service and quality craftsmanship you won't get anywhere else.
The Process of Building a Log Cabin
We approach every project with our proven process to ensure you receive a cabin that meets your needs and exceeds your expectations.
The first step entails a consultation with a member of our design team. During your design consultation, we'll get to know who you are, what you want, and how we can make your dream cabin a reality. Our knowledgeable designers will offer recommendations based on your needs and their experience to create a design you'll love.
With few exceptions, we build all of our log cabins with the best materials in our climate-controlled facilities. By keeping the construction in-house, we're able to ensure that our skilled specialists consistently build structures that meet our high quality standards.
Our team will handle installation, as well, ensuring that your new cabin is level, stable, and secure. If there are any additional features you've selected, such as a porch, we'll install them onsite.
At Ulrich, we know how much this investment means to you. It's our mission to build and deliver structures that our customers will love for years to come – and we've spent decades achieving that goal.
What Sets Ulrich Log Cabins Apart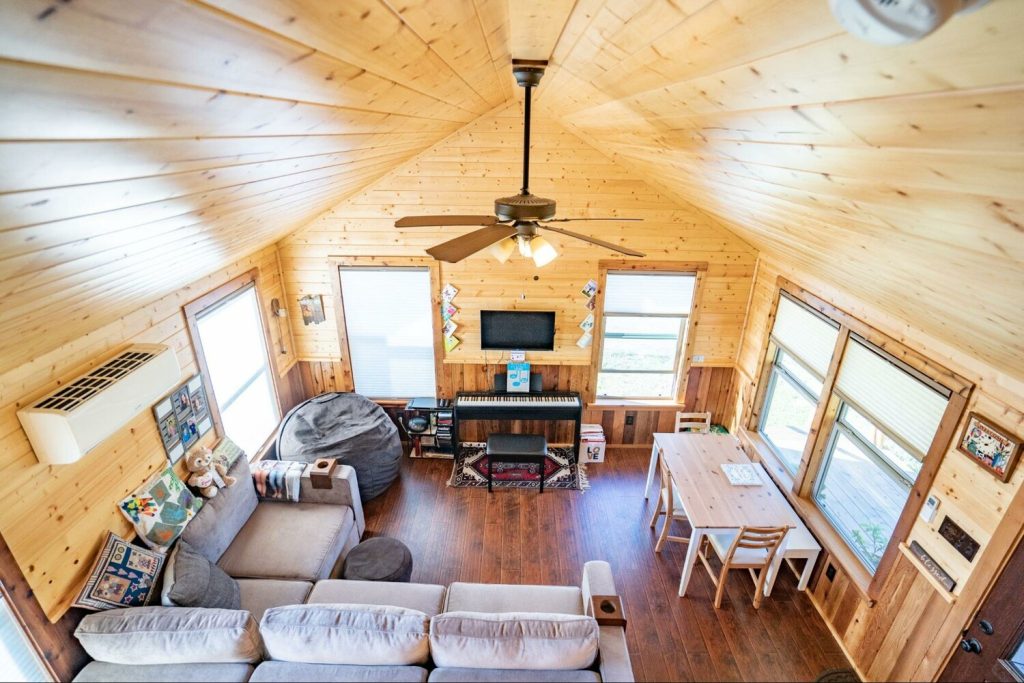 Our cabins come fully finished with a range of floor and wall coverings available. Choose from rustic, modern farmhouse, and shabby chic styles to suit your aesthetic preferences.
Insulated top to bottom, our cabins are built for comfort. You'll enjoy state-of-the-art heating and cooling systems, as well.
We construct our cabins to meet high standards of durability and resilience, capable of withstanding the elements as well as the stress of transportation. Rest assured that your Ulrich log cabin will ​​meet or exceed the International Building Code. 
From custom cabinets to additional features like lofts and porches, your log cabin from Ulrich will truly be your own. With numerous customization options, we'll design and build a cabin that suits your style and fits your exact needs.
Get a Custom Quote for Your Log Cabin Home Today
Once you are satisfied with your design and sign your agreement, we'll build, deliver, and install your cabin within 12 weeks so you can enjoy your comfortable new home as soon as possible.
Contact our design team by filling out the form below.