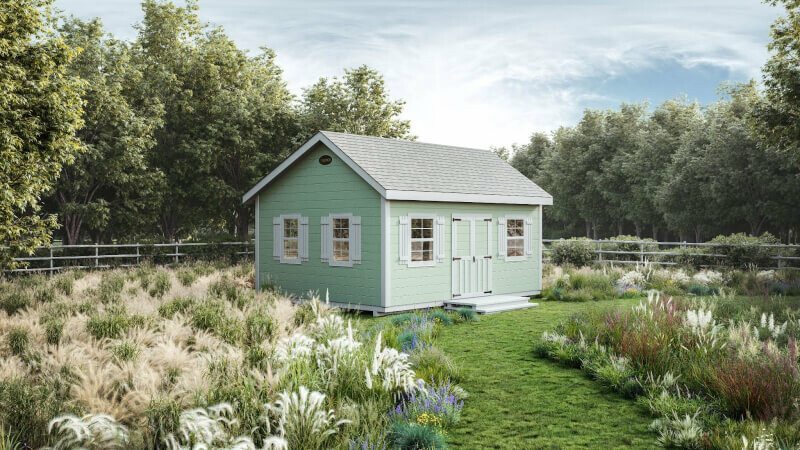 Storage sheds
can be a great investment for your property. Whether you are looking for extra storage or a private space to work, a storage shed adds value to your property and your life.
So, how much do storage sheds cost?
Storage sheds from Ulrich are available at prices from $3,800 plus tax. Ulrich sheds are made with high-quality materials and skilled labor to ensure your satisfaction. Customizations, including lofts, workbenches, and finishing, will add to the total cost.
At Ulrich, all of our sheds are customized to meet your exact needs. You'll often find that sheds on the market vary dramatically in price, and this is largely due to the quality and durability of the product and its materials. We always use the highest quality materials to build our structures so our customers get the best storage shed they could ask for.
Storage Shed Pricing Breakdown
There are a number of factors that can affect the cost of a storage shed, including the size and style of the shed, the materials used, the level of customization, and whether or not installation is included.
One of the most important factors in shed pricing is size. Sheds are available in a wide range of sizes, from small sheds that are just big enough to hold a lawn mower and some garden tools, to large sheds that can accommodate all of your outdoor equipment, bicycles, and more. The size of the shed you need will depend on the items you need to store.
The higher quality the material used to create your shed, the higher the total cost will likely be. At Ulrich, we always use high-quality materials – from the wood of the frame to the exterior paint – to design and build long-lasting, durable structures that will serve your needs for years to come.
If you want to spend time in your storage shed or convert it into a more habitable space, finishing it out is usually the way to go. A custom shed from Ulrich will give you the opportunity to opt for insulation, electrical wiring, drywall, and more so that you can comfortably use your new space.
Choosing to finish out your storage shed will increase the cost of the structure because of the extra labor and materials needed to complete the job.
If you purchase a premade storage shed, the price will be relatively consistent, but you will often miss out on opportunities to get exactly what you want. We offer a variety of customization options, from lofts and workbenches to ramps and insulation, to ensure your storage shed meets your needs. While customizations do add to the total cost, customizing your shed will provide the amenities and features you want, whether you plan to store gardening tools inside, use the space as a home office, or rent it out to travelers.
Some shed manufacturers charge extra for installation. At Ulrich, we provide
white-glove delivery and installation
with every order to ensure your custom shed is treated with care throughout the entire process.
Other Costs to Consider When Buying a Storage Shed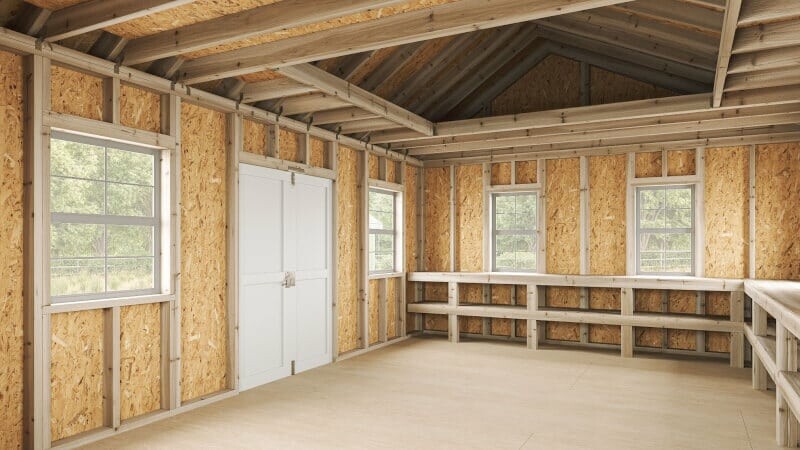 There are a few other costs you may want to keep in mind when budgeting for your storage shed.
Depending on the size and location of your shed, you may need to obtain a permit from your city or county. The cost of the permit will vary depending on the municipality.
When you work with Ulrich on a custom shed, we will help you determine what, if any, permits you need to install a storage shed on your property. Our team can help you secure the necessary permissions, as well.
Foundation and Site Preparation
Choosing the right spot for your new storage shed is an important part of the process. For most Ulrich sheds, you will not need to take extra steps to prepare the site, saving you time, energy, and money. However, it is important to select a relatively flat and level area that is accessible. Our team can also use blocks to level your shed when they install it.
Some shed companies may charge extra for site preparation, especially if they require you to have a concrete foundation in place beforehand.
Is It Cheaper to Buy a Shed or Build a Shed?
Buying a shed kit or the raw materials necessary to build your own shed will often be less expensive than buying a custom shed. However, building your own shed can be more costly in other ways, so weighing the pros and cons of each option before committing to one is important.
How Much Does It Cost to Build a Storage Shed?
When calculating the cost of building your own storage shed, you need to not only consider how much money you will spend but also how much time and energy you will need to complete the project.
It may be cheaper to simply purchase the materials for a shed (including wood beams, drywall, hardware, paint, and more), but the building process will require a substantial amount of planning, labor, quality assurance, and effort on your part, as well.
Consider how much money you will spend on purchasing and hauling materials. If you don't have a large enough vehicle to transport them, you will need to rent or borrow a vehicle, which can be costly or inconvenient. When it comes to the time, energy, and labor you need to dedicate to the project, you should realize that you may need to spend weeks, if not months, planning out the design of your shed, obtaining materials, building the structure, and ensuring everything is in order.
If you don't have sufficient tools or experience building structures like storage sheds, it is often advisable to purchase a custom shed and trust in the work of professionals.
How Much Does It Cost to Buy a Storage Shed?
Custom storage sheds from Ulrich
start at $3,800 plus tax. Depending on the size and customizations you select, an unfinished shed can cost as much as $20,000, while a finished shed may cost up to $60,000.
The price tag for custom, high-quality storage sheds may be higher than shed kits or DIY options, but you will save on time, energy, and labor by purchasing a custom shed. Additionally, premade sheds will rarely include the features you need to be satisfied, so you will lose out on having a shed that suits your needs.
Get a Quote for Your Custom Storage Shed Today
Ready to get started? Just fill out the form below.