If you're thinking about building a cabin, a prefabricated model is a great option.
However, you'll want to know how much you can expect to pay before committing to a prefab cabin, so it's important to ask: How much does a prefab cabin cost?
At Ulrich, custom prefab cabins range between $100k and $500k depending on factors such as square footage, number of bedrooms and bathrooms, custom cabinetry, heating/cooling systems, porches/skirting options, and more. For a more detailed breakdown, see the sizes and price ranges below. 
For our smaller 1 bedroom 1 bathroom cabins, prices start in the $80k-$120k range.
For a 2 bedroom 2 bathroom cabin, prices start in the $150k-$200k range.
For a 3 bedroom, 2 bathroom cabin, you can expect prices to start in the $250k-$350k range.
For a larger cabin with up to 5 bedrooms, prices will start in the $400k-$450k range.
We offer all kinds of options for you to choose when customizing your cabin. Our cabin designers take special time and attention to your needs and how you envision your home.
Factors That Play Into the Cost of a Prefab Cabin
The cost of a prefab cabin will vary depending on a number of factors, including the size of the cabin, the number of bedrooms and bathrooms, the type of materials used, and any custom features or amenities that are included.
One of the biggest factors that will affect the cost of a prefab cabin is the size of the cabin. The larger the cabin, the more it will cost to build. This is because there will be more materials used and more labor required to construct a larger cabin.
Another factor that can affect the cost of a prefab cabin is the style of the cabin. A simpler, more rustic design may be less expensive than a complex, modern model. However, additional elements, such as utilities and optional custom features, will contribute more to the cost than the base style will.
If you want your cabin finished out with utilities, insulation, and more, these options may cost extra. Cabins from Ulrich are fully insulated and fully finished, with beautiful and durable options for wall and floor coverings.
There are a number of optional features that can be added to a prefab cabin that will increase the cost. These features may include things like a fireplace, a deck or porch, lofts, custom cabinets or built-ins, and more. These added features will often increase both the cost of materials and the labor required to construct the cabin.
The quality of the materials and craftsmanship that goes into building a prefab cabin will also affect the cost. A cabin made with high-quality materials and construction techniques will be more expensive than one made with lower-quality materials. However, it is important to note that a cabin made with inferior materials may not last as long or be as durable as one made with better-quality materials. At Ulrich, we use only the highest-quality materials in our prefab cabins to ensure that they will last for generations.
Ways to Use A Prefab Cabin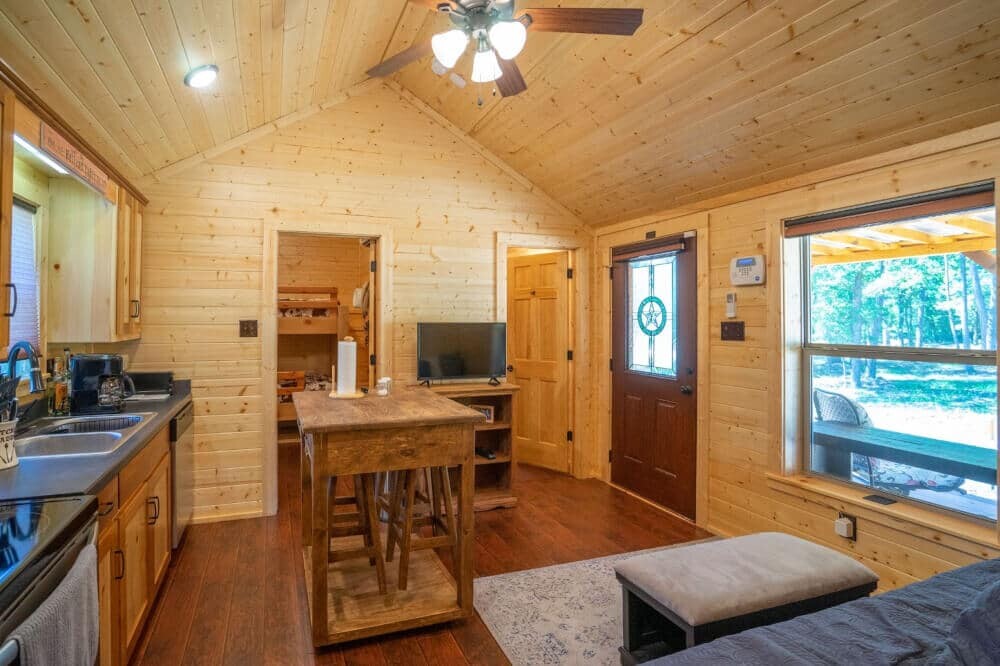 There are a number of ways that a prefab cabin can be used. Some common uses for our cabins include:
Using a prefab cabin as a hunting lodge grants you the perfect place to escape for a weekend of hunting. With a comfortable bed, kitchen, and living area, a hunting cabin can make your hunt more enjoyable.
For those who are looking for an affordable way to own a home, a prefab cabin can be the perfect solution. A cabin can be used as a primary residence so long as you own the land on which it is installed.
If you are looking for a small office or retail space, a prefab cabin can be a great option. A cabin can be outfitted with the amenities and features that you need to run your business efficiently.
A prefab cabin can be the perfect way to generate income if you own a piece of property in a desirable vacation destination. By renting out your cabin, you can offset the cost of ownership and even make a profit.
If you have regular visitors or out-of-town family members, a prefab cabin can serve as the perfect guest house. A guest cabin can provide your visitors with their own space to relax and feel at home.
Let's Design Your New Prefab Cabin Together
It's time to start planning your own cabin. Ulrich is the leading provider of
high-quality prefab cabins
, and we would love to help you design the perfect cabin for your needs.