Looking for a serene and private space to call your own? A she shed may be the perfect solution. These backyard retreats are becoming increasingly popular as women seek out private places to relax and enjoy themselves.
If you're considering adding a she shed to your yard, you may be asking: How much does it cost to build a she shed?
A basic she shed from Ulrich starts in the $10k-$15k range, and we offer a number of custom options to suit our customers' needs, including siding, paint colors, trim, roofing, windows, doors, and more. Finish out options are available at an additional cost.
Ordering a custom she shed means investing in your happiness with a space of your own.
Why a Custom Built She Shed is a Great Investment
If you're looking for a backyard getaway that is both stylish and functional, a she shed is the perfect solution. These freestanding structures can be used for a variety of purposes, from housing extra garden supplies to serving as a private home office or studio. Because
she sheds from Ulrich are built to your specific needs and preferences
, they make a great investment that will add value to your home.
When you work with Ulrich, you'll have the opportunity to customize your she shed in a variety of ways.
She sheds come in a range of sizes, from small structures that are just big enough to hold a few pieces of furniture to large buildings that can be used as multi-purpose spaces. No matter what size shed you need, Ulrich can build it.
Do you want your she shed to match the style of your home? Or are you looking for something that will stand out and be a unique addition to your property? Ulrich offers a variety of shed styles to choose from, including barn-style, A-frame, and cottage-style sheds. And because we use high-quality materials and construction methods, you can be sure that your she shed will look great and last for years to come.
In addition to selecting the size and style of your she shed, you'll also have the opportunity to choose from a variety of customization options. These include everything from the type of siding and roofing to the color of the trim and paint. And if you want to add electric, water, or other utilities, we can make that happen too.
When it comes to deciding what to use your she shed for, the sky's the limit. Some people use them as home offices, art studios, or even guest houses. Others use them as storage spaces for lawn equipment, bicycles, and other items.
No matter what your needs are, Ulrich can help you create the perfect she shed for your home.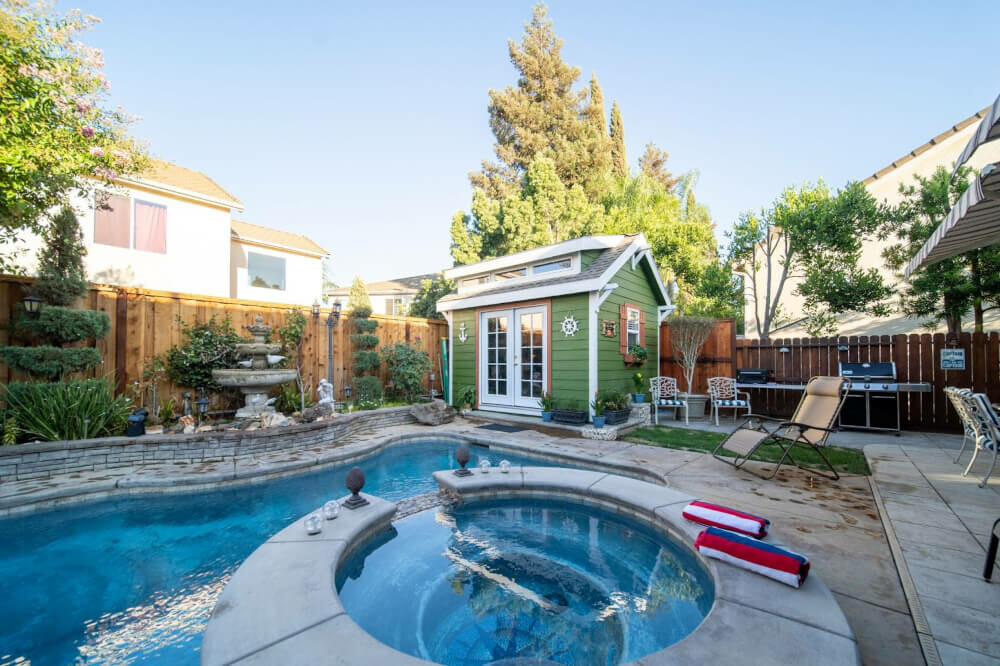 Before designing and building your new she shed, we want to know how you plan to use it. High quality storage sheds from Ulrich are versatile, so they can serve many purposes. Need inspiration? Here are a few examples of how our customers have used their custom she sheds.
If you're an artist or crafter, a she shed makes the perfect studio. It's a great place to store your supplies and work on your projects in peace.
Escape to your she shed for some peace and quiet. Outfit it with comfortable furniture and plenty of books, and you'll have the perfect spot to relax and unwind.
If you love to garden, a she shed is the perfect place to store your tools and supplies. It's also a great place to take a break from the sun and enjoy the fruits of your labor.
A she shed is the perfect place to get away from distractions and focus on your writing. Furnish it with a comfortable chair, a desk, and plenty of shelving for your books, and you'll have the perfect spot to work on your next novel.
A she shed is also a great solution if you need a quiet, private space to work from home. Outfit it with a desk, chair, and shelves, and you'll have the perfect spot to get things done.
Let Us Build the She Shed of Your Dreams
No matter how you plan to use your she shed, Ulrich can help you create the perfect space. Our team of experts will work with you to
design and build a storage shed
that meets your specific needs and preferences.
Ready to get started? Fill out the form below to schedule a design consultation.