Most people only think of their backyard as a place to store lawn furniture and grills but it doesn't have to be that way! You can create an outdoor living space that perfectly suits your lifestyle by using some simple design tips. 
So, whether you want a relaxing spot to read a book or a fun area for hosting parties, we've got you covered. Keep reading for our best tips on enhancing your living space.
We will look at each of these advantages and then discuss potential considerations you need to be aware of before you commit.
Build a Shed
If you love to entertain, a shed can be the perfect place to host gatherings or create an additional living space that fits your lifestyle. There are a ton of possibilities for your shed, including (but not limited to!) a man cave, a she shed, an arts and craft studio, a home gym, or a workshop.  
Of course, a shed can be a great place to store lawn equipment and gardening supplies. If you love to garden, a shed can offer a secure environment if you frequently work with tools or other materials that need to be stored away. 
A shed may even help you save money by allowing you to run power-hungry appliances outside the home. Another benefit of having a shed is that it can help enhance the curb appeal of your property.
Before you purchase a shed, there are a few things you should take into consideration:
Purpose:

What do you want to use your shed for? This will help determine the size and features you need.

Cost:

Shed pricing can range depending on many different factors, so having an idea of your budget as well as features you want your shed to have will help your search.

Design

: There are many different shed designs to choose from. Choose a style that fits the overall look of your property.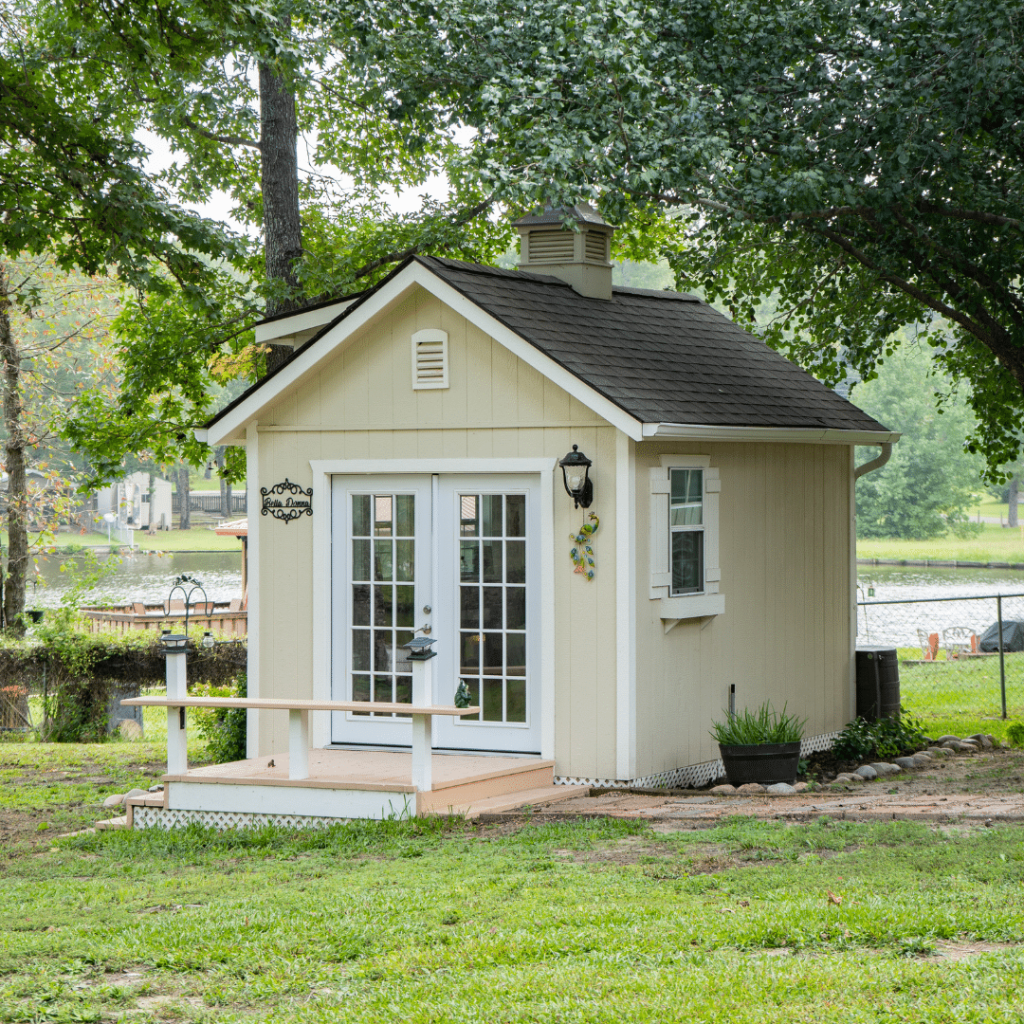 Install a Pergola
Do you enjoy sitting around a fire pit and having guests over? A pergola may be a good fit because it will provide shade and privacy for you and your guests. What's more, it can add a touch of elegance to your backyard.
A pergola is an overhead structure that serves as a roof over an open walkway or patio area. It can be made from wood or metal framing and covered with latticework. When choosing a pergola, you should keep a few things in mind:
Materials used

: A pergola can be made of wood, metal, or even plastic. If you're looking for longevity, wood is probably the best choice. Still, metal and plastic can also last for years if properly maintained.

Style

: Pergolas come in many shapes and sizes; from simple to elaborate, there's sure to be a style that fits your taste and requirements. Some popular ideas include hanging lights or plants, which instantly amplifies your pergola's style factor.

Price

: They can range from affordable to expensive; depending on what you're looking for, there's sure to be one that fits your budget.
Add a Gazebo
A gazebo is an excellent option for an outdoor living space, especially if you want to enjoy your backyard no matter what the weather conditions are. It will provide you with a sheltered area to enjoy your backyard.
Gazebos are not only functional but also beautiful additions to any outdoor space. These versatile structures can be used for dining, relaxing, and entertaining, or as a place to get away from the noise of everyday life.
If you're looking to add a gazebo to your backyard or patio, here are some things to consider:
Your needs

: Do you need a place to dine, relax or entertain? Or do you require a structure to protect you from the sun, rain, or snow?

Permits:

Check with your local building department to see if you require a permit to build a gazebo.

Location

: Where will the gazebo be located within your property? Will it block views when looking out from inside? Can it provide shade during hot weather?
Install a Pavillion
Whether you enjoy eating outdoors or love hosting parties, a pavilion can be a lovely spot for a gathering.
A pavilion is essentially a covered structure with an open-air design. It can be built from various materials, including wood, aluminum, stone, or brick.
They can provide thorough protection from the elements while creating a more intimate setting that will make your guests feel right at home.
When choosing a pavilion, you will need to take the following into account:
Size matters

: You'll want to pick a pavilion that comfortably fits all your guests.

Roof

: There are many different options available, so take your time and look around until you find one that suits your needs.

Finishing touches

: Don't forget to add some finishing touches like outdoor furniture and decorations to really make your pavilion be yours.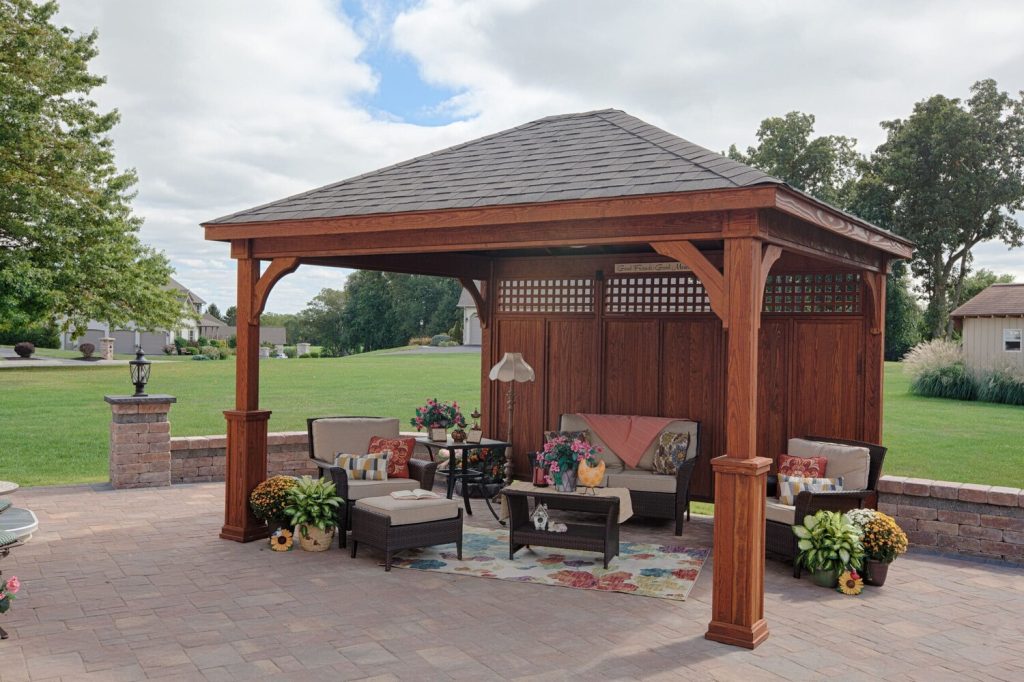 Go With a Playhouse
Do you have young kids or grandkids who love to play outside? A playhouse can be a way to add fun and excitement to your backyard while also giving them their own space.
One of the biggest benefits of having an outdoor play area is that it can keep even the most active kids entertained and engaged. 
There are many different playhouse designs, and you can even add a loft space and ladder to give your kids ample interior space to play to their hearts' content. 
When choosing the right playhouse for your backyard, there are several factors to go over:
Durability

: You'll want to pick a playhouse made from sturdy materials and can withstand the elements.

Safety

: Look for features like rounded edges and smooth surfaces to help

prevent injuries

.

Features

: With features like porches and loft spaces, your kids' imaginations will go wild as they step into their mansion of a playhouse.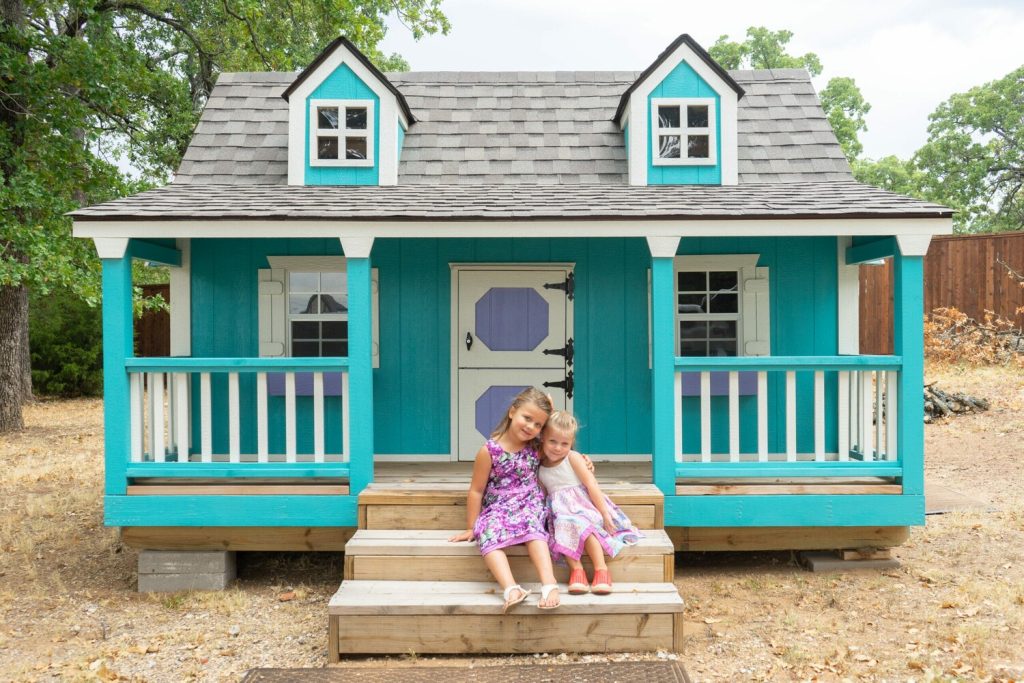 Final Thoughts
There are several ways to enhance your outdoor living space to fit your lifestyle. Whether you're looking for a place to relax, entertain or just escape from the hustle and bustle of everyday life, there's an option out there for you. Gazebos, sheds, pergolas, pavilions, and playhouses are just a few possibilities. 
So take your time, do your research and find the perfect addition for your backyard.