Having a playhouse in your yard for your kids can be an excellent addition to your outdoor landscape. These structures provide many benefits for children and come in various sizes, styles, and materials to suit any backyard or budget. 
If you have young children in your home or ones that frequently visit, choosing to add a playhouse shed can be a terrific idea. These structures are an investment and can provide hours of fun for your young kids or grandkids. 
The Benefits of Including a Playhouse in the Yard
When you choose to include a playhouse in your backyard, it is more than just a place for kids to play when they are outside. These structures encourage more outdoor play and can provide children with: 
Outdoor play in all seasons and weather conditions

Building self-confidence and fostering personal relationships

Encouraging creativity and imagination

Better overall health and self-awareness

Increased muscle strength and agility

Improved motor skills

It offers a unique space just for them
Additionally, when you put a playhouse in your yard for children to use, these structures encourage a designated place for their outdoor toys. You can keep your landscape organized and have a central area for play. Homeowners can minimize the foot traffic and consequential foliage damage in other backyard spaces by focusing on a specific play area for the kids. 
So, whether your kid wants to have an outside tea party or needs a cozy space to read a book, these structures are ideal. The benefits of staying outdoors and connecting with nature are immense and do not diminish when the seasons change.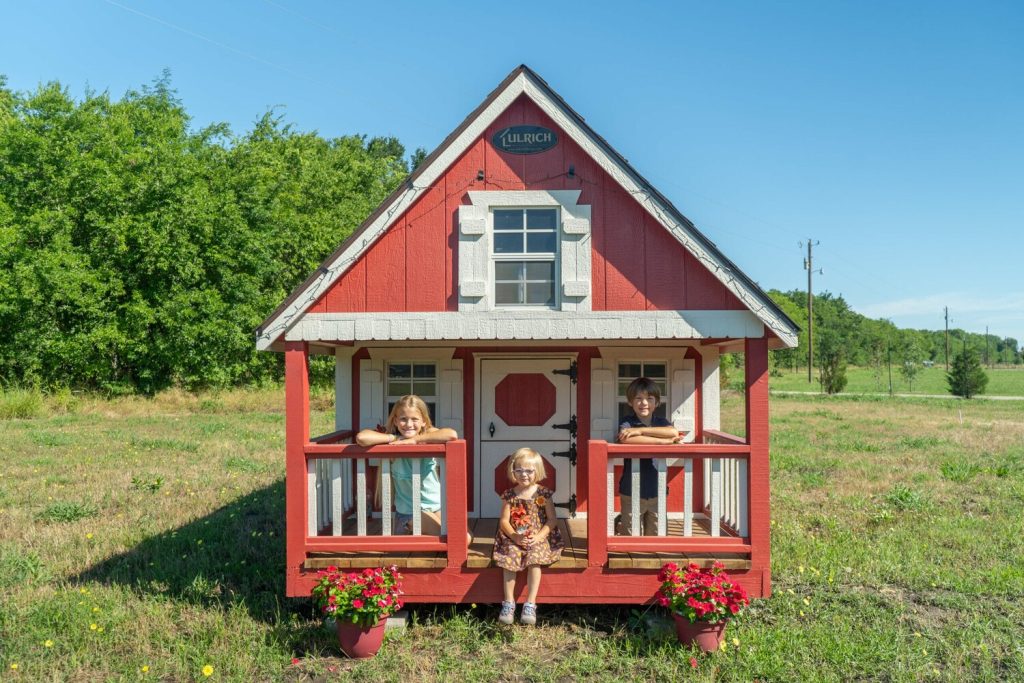 Playhouse sheds come in various styles and sizes to suit any individual taste or backyard. Homeowners with minimal outdoor living space can still provide a structure for their children to use and enjoy for years to come. 

When deciding on a playhouse model, consumers should explore the features available, what they are looking for, and if they have any restrictions to work around. Although many sheds for kids will be similar, some elements can make a model a more attractive option for your space. 
Some features to explore before choosing a playhouse shed include: 
Access doors 

Windows 

Interior Elements

Exterior Elements

Materials

Versatility
The access doors on a playhouse structure are vital. Some models will include one entry, while others provide two. In addition, you can find styles that have a smaller door for children and a larger access door for adults, making it easy for everyone to get in and out. 
Having doors that can accommodate various sizes is also beneficial for moving more oversized furniture or items in and out of the structure. So choosing a playhouse shed that will accommodate your needs may require a model that has a larger access door or multiple entrance options. Often, playhouse sheds can be built with a small door in the front and a larger access door in the back for adults and furniture.
An ideal playhouse should have windows for your child to gaze out or call to their friends. Structures with ample windows will provide enough natural light inside so the kids can play for hours. Unfortunately, not every backyard will have access to external lighting options to wire a playhouse shed, so windows are necessary. 
Large windows also provide character to the playhouse and make it easy for parents or caregivers to check in on little ones playing outside. This way, adults do not have to go in and out of the playhouse. Alternatively, they can interact with the kids through the windows.
An outdoor playhouse is more than just four walls with doors and windows. These structures can be a unique oasis for your child, especially when they come with individual interior elements to encourage imaginative play. 
Some special interior features can include loft areas with kid-sized ladders, finished flooring, or storage areas to keep their toys and favorite items safe outside. 
How a playhouse shed looks on the outside will provide a charm to your backyard while making it an attractive space for your kids. Many outdoor play structures offer porches, window boxes, and ornamental trim and shutters to provide a finished look to the shed. 
By using exterior skirting around the edges, homeowners can make these structures look more permanent by including a playhouse shed in the yard.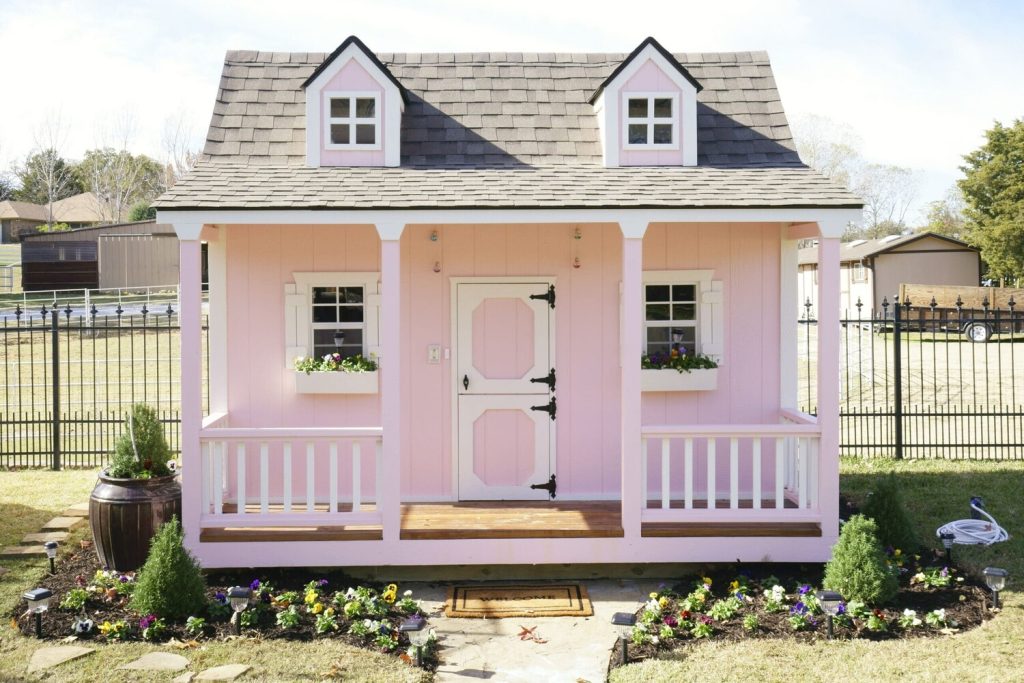 Although the children will not care about the materials that make up the playhouse, parents and caregivers will. In addition, homeowners that spend money on an outdoor play structure will want it to last and be a safe space for the kids to play. 
Choosing a model that uses quality materials ensures the structure will be safe for children to play in and last for years, even against the weather and prolonged use. For example, high-quality shingles and roofing materials will ensure the roof does not leak when it rains. Alternatively, proper hardware will keep the doors and windows functional for years without worrying about repairs or causing harm after overuse. 
For some homeowners, including an outdoor structure will need to be versatile to handle children of various ages. The playhouse you invest in should grow with the kids and provide years of enjoyment. Choosing a model with higher walls, more oversized doors, and more space can give growing kids the opportunity to play with it for years. 
Additionally, some sheds available for the children's outdoor playtime can double as garden sheds. When it is not in use by the kids, homeowners can store lawn chairs, electrical cables, gardening tools, and more.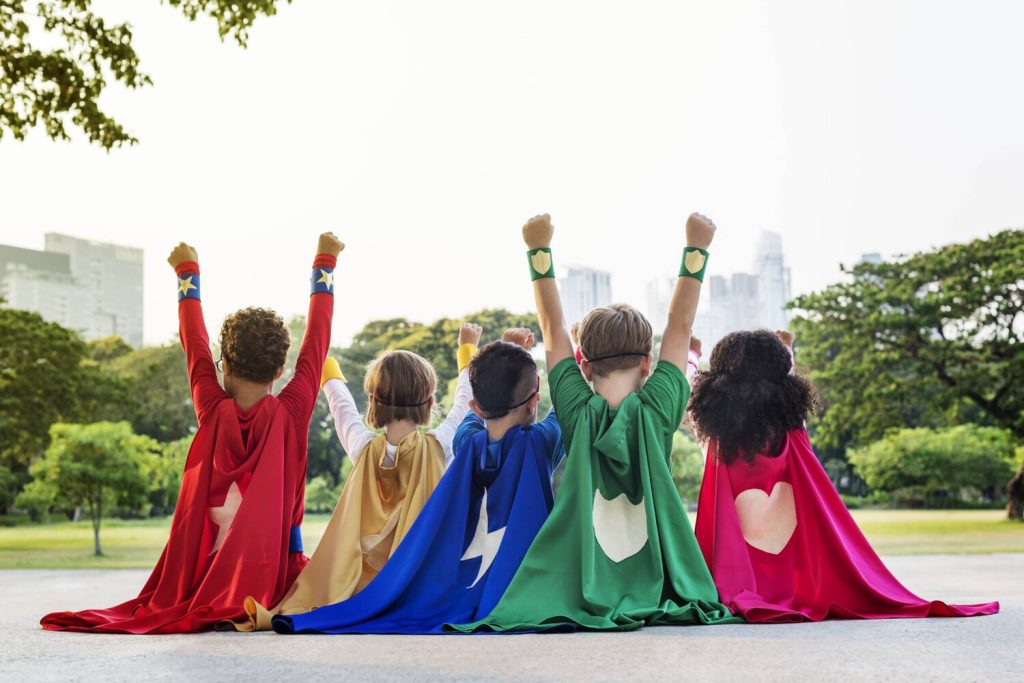 Encouraging Imaginative Outdoor Play With Quality Playhouse Sheds
If you are searching for the perfect way to encourage more imaginative outdoor play with your children, adding a playhouse shed can be the solution.
Homeowners should explore how much space they want to dedicate to an outside playhouse shed and what features they find are necessary to the structure. Then, you can choose a prefabricated model or custom-build one that is perfect for your family.