A Boy Named Abraham
In the early 1800s there was a skinny boy by the name of Abraham who lived with his parents in Perry Creek County, Indiana. Since they didn't have much money, Abraham's father spent most of his time hunting while the rest of the family worked hard at farming. Abraham would later describe those days as a fight "with trees and logs and grubs". Abraham's last name, by the way, was Lincoln.
Backwoods Philosophy
Lincoln is famous for saying, "Give me six hours to chop down a tree, and I will spend the first four sharpening the axe." A great tool makes a tough job much easier. Your storage shed is a tool with a job to do. Your shed's job may be to store stuff, or it may serve as a workshop. For many people, it's a combination of both.
Here are some great ways you can sharpen your axe, I mean shed, to get the most use out of your backyard building.
Use Your Space Efficiently
The number one key to getting more use out of your shed is to use the space efficiently. If your neighbours would let you look inside their sheds, you would probably find that most of their stuff is in the bottom half of their shed, on the floor. The upper portion is usually fairly empty. That's what I call a dull axe.
An easy way to make your shed much more useful is to line it with shelving. Shelving does several things.
First of all, it lets you use your vertical space much more efficiently, meaning your shed can hold a lot more stuff. Space that would otherwise be wasted is now usefully employed.
Secondly, shelving makes so you can see and access what you have much more easily. If you are going to bother storing something, why not make so you can get to it easily?
Here at Ulrich, we have several options for you.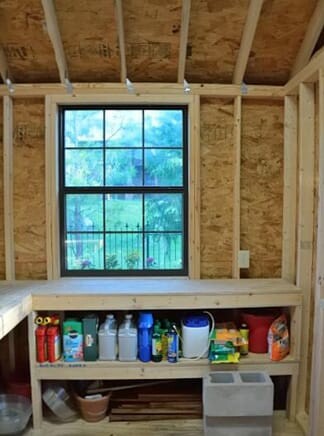 16″ Double Shelves
These double shelves are 16″ inches deep, and come standard as a set. The first shelf is about 18 inches off the floor, and the second shelf is 36 inches from the floor. Built with 2×4 framing and covered with ⅝ inch plywood on top, these shelves can support almost anything you want to place on them. Great for gas cans, tool boxes, and garden supplies.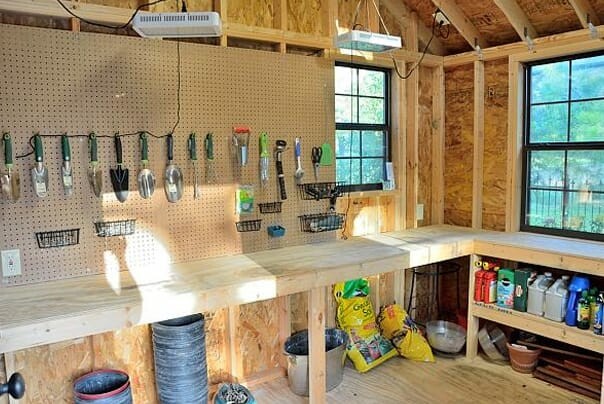 24″ Workbench
This workbench is a great choice if you need a wider space. A full 2 feet deep, this rugged workbench provides lots of easily accessible space. You can use it to get your work project up to a convenient height, or as a sturdy shelf. Great for bags of potting soil, dog food, and large totes.
Organize From the Start
When you get your new shed, you might be tempted to throw everything in and hope that you'll get around to organizing it later. However, you will enjoy using your shed a lot more if you organize it as you put things in. With shelving already installed, organizing your stuff will be a lot more fun and easy.