If you are looking to enhance your backyard area, there are a few options you can choose from. Pergolas, Gazebos, and Pavilions are all outdoor living structures but each has their own unique look and purpose. This article describes each outdoor structure's look, use, and factors to consider when building each one. As summer approaches, now is the perfect time to think about adding a beautiful structure to your backyard to relax, enjoy, and entertain guests in the comfort of your backyard.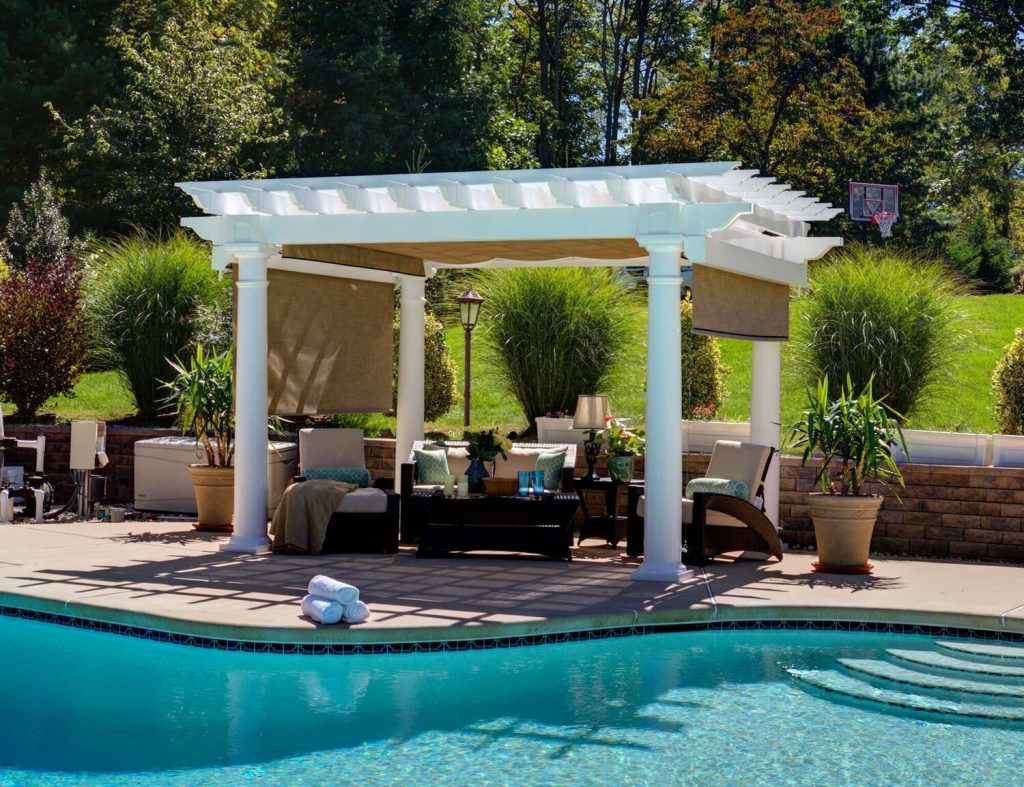 Traditionally, a pergola was used most often in a garden scenario for subtle shade to enjoy the garden and for growing and displaying plants. The pergola has grown and expanded into many more modern uses but is still used in the traditional sense regularly as well. Often pergolas are compared to gazebos and pavilions but unlike the two, pergolas are more often used for aesthetic purposes. 
A pergola commonly has a lattice style roof that does not offer full shade like a pavilion or gazebo would. This lattice style roof design wise can still offer partial shade but also gives a more open and airy feel to the area's ambience. In addition this style of roof can also be good for hanging plants that have long vines and branches or climbing plants that grow and intertwine on structures like trellises or arbors.

If you are considering adding to your outdoor living space and think a pergola may be a good addition you will want to consider a few factors:
Use – What is the purpose of this area? Are you looking to add a shaded area or would partial shade be sufficient?

Outdoor Ambiance – Are you looking for something that enhances an open and spacious environment?

Design – Pergolas come in many different styles so you will want to decide what design you are hoping to achieve with your outdoor space.
Pergolas can be a great addition to a garden used more traditionally for plant and shade purposes. They are also a stunning addition to an outdoor seating area or poolside hangout spot. The uses of a pergola are incredibly diverse, so if you are looking for a multipurpose but tasteful addition to your outdoor living space a pergola would be the perfect addition!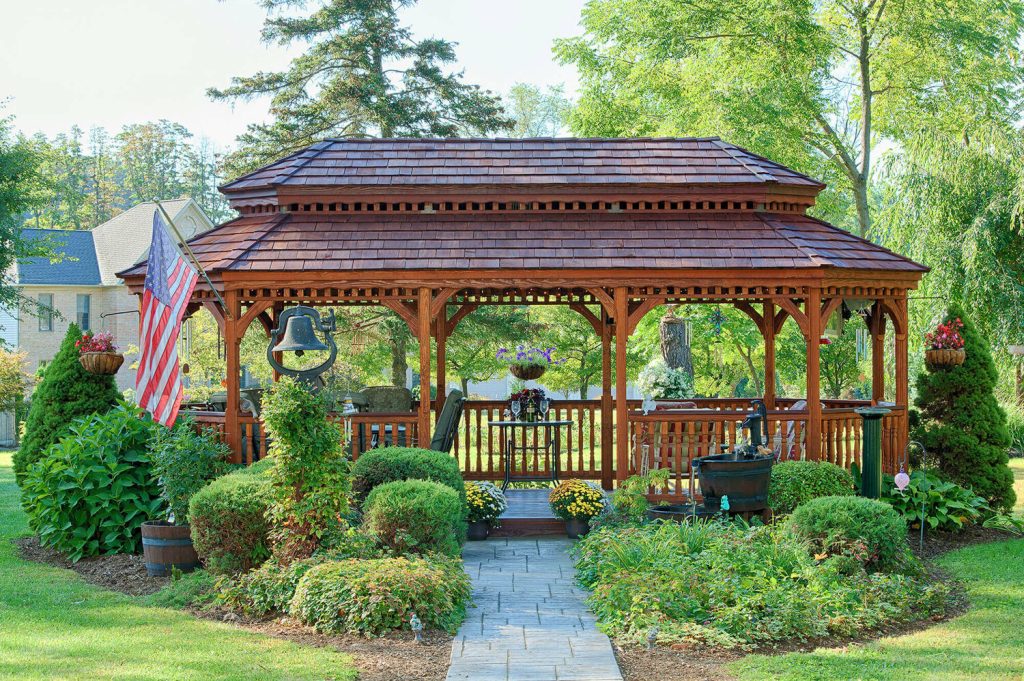 A gazebo is a free standing outdoor structure built to enhance one's backyard landscape. Classic gazebos are octagonal in shape but there are a variety of ways to build them. There are several different shape options for gazebos including oval, rectangular, dodecagonal, and of course the classic octagonal gazebo. Gazebos have deck floors and provide a large sitting area for entertaining.

There are plenty of ways to enjoy your gazebo once it's been completed. You can sit and relax while reading a book. A table could be set up under the gazebo to host an outdoor dinner gathering. By setting up chairs, you could host a small backyard concert, performance, or celebration. 


When building a gazebo, there are a few factors to consider in the design.
Location – where will the gazebo be placed in your yard?

Scale and proportion – think about the size of the gazebo, choose one that isn't too big or too small for the space

Style – What style are you looking for? Does it blend with your house and

complement your yard?
Having an outdoor living area such as a gazebo adds value and style to your home. It creates a perfect space in the yard for relaxing, gathering, entertaining, and more. You will enjoy the harmony and beauty of your new gazebo for years to come!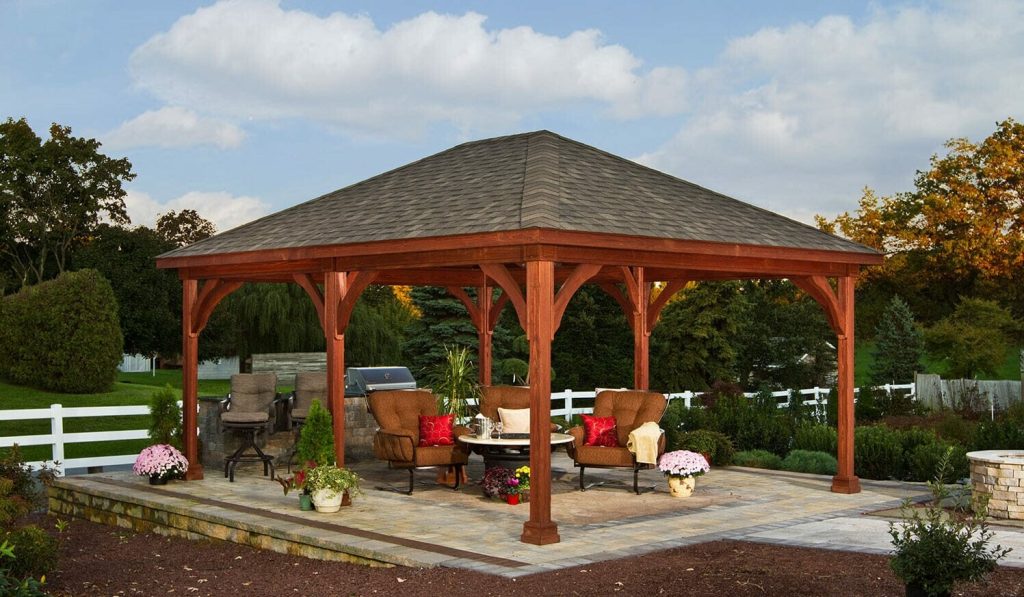 A pavilion is an open architectural space. Pavilions have many uses including an outdoor kitchen space, a poolside bar, or for backyard dining. Gathering under a finely constructed pavilion during the nice Spring and Summer evenings will create memories to last a lifetime. 
You've probably seen a large pavilion at a park. These are perfect setups for picnic areas or outdoor events. They are common structures at parks because they can accommodate larger groups and provide plenty of shade.
When building a pavilion, there are a few factors to consider in the design. You want a sturdy build that matches your home and provides comfort.
Materials – Vinyl or Wooden

Style – Traditional, Modern, etc – keep in mind the style of your house




You want the pavilion to fit and complement its surroundings

Primary use – what will be the main function of the pavilion?
Enjoy hosting family and friends in the backyard underneath your stunning new pavilion! 
Each outdoor structure has its unique qualities. Deciding which one will work best for you and your outdoor space depends on the look and feel you're going for. Whether it's a poolside pergola, a relaxing space under a gazebo, or an outdoor dining pavilion, each structure will complement your backyard in a new way. These structures would be splendid additions to any backyard and will delight you, your family, and all the guests you have the pleasure to entertain!