Nestled in the heart of Texas, on a sprawling 140-acre deer ranch in Fredericksburg, Jim and Jodie Sands faced an exciting yet challenging endeavor. With a passion for preserving nature and creating a haven that reflected their dreams, they embarked on a journey to build their dream deer ranch cabin. This is how Ulrich transformed their vision into a remarkable reality.
An Inherited Legacy Ignites an Inspiring Vision
When Jim and Jodie inherited the expansive deer ranch from Jodie's father, they knew they wanted to build something special on the land. However, finding a reliable contractor proved difficult and financially straining. The desire for a house blending seamlessly with the ranch's natural beauty seemed like a distant dream.
That was until they stumbled upon Ulrich, which is known for its finished cabins' customizable designs and exceptional craftsmanship. However, he knew that convincing Jodie would require more than digital impressions. Determined to seal the deal, Jim arranged for Jodie to tour the Ulrich Cabins factory, where she could witness the dedication to quality and attention to detail firsthand. During this tour, their dream cabin took shape as they spent an afternoon designing every aspect of their 16×48 Homestead cabin.
The Homestead Cabin is ideal for those seeking a simple yet practical cabin. These cabins are designed with convenience and comfort in mind. The Homestead Cabin is built from durable materials and offers a cozy and welcoming atmosphere perfect for those seeking a serene, budget-friendly getaway. Enjoy the simplicity and warmth of cabin living without compromising on quality.
From Vision to Reality: The Design Journey 
Upon witnessing the craftsmanship and ingenuity firsthand, Jodie shared Jim's excitement. The day of the tour became the day they designed their cabin. "The design work within an afternoon was pretty amazing," Jodie reminisces.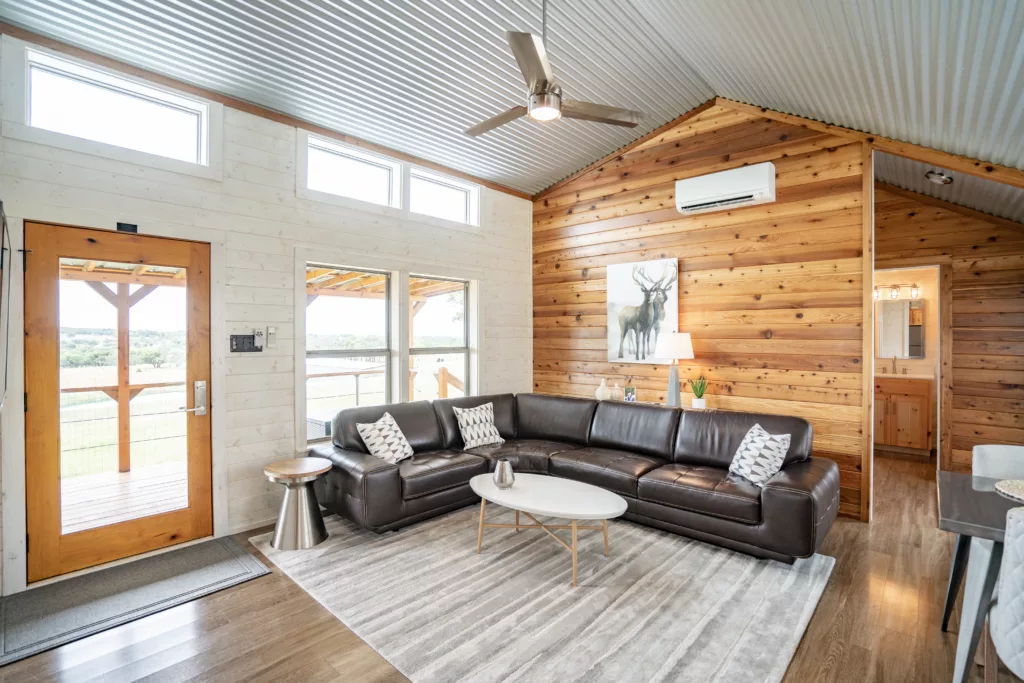 With a desire for a cabin that felt spacious and connected to nature, Jim and Jodie selected a design with a vaulted ceiling and abundant windows. This allowed natural light to flood the space, creating an airy, open atmosphere. They carefully chose the location for their cabin, perching it on the side of a hill to maximize the breathtaking views offered by their Texas deer ranch cabin. Despite the challenges of a tall pier system required by the hilly terrain, the Ulrich team flawlessly executed the construction.
A Hassle-Free Delivery 
Jodie's appreciation for having the cabin built indoors became evident as they moved in. The indoor construction ensured a clean and creature-free space. An added courtyard protected their dog from wildlife and acted as a windbreak, enhancing their cabin living experience.
Enhanced Experience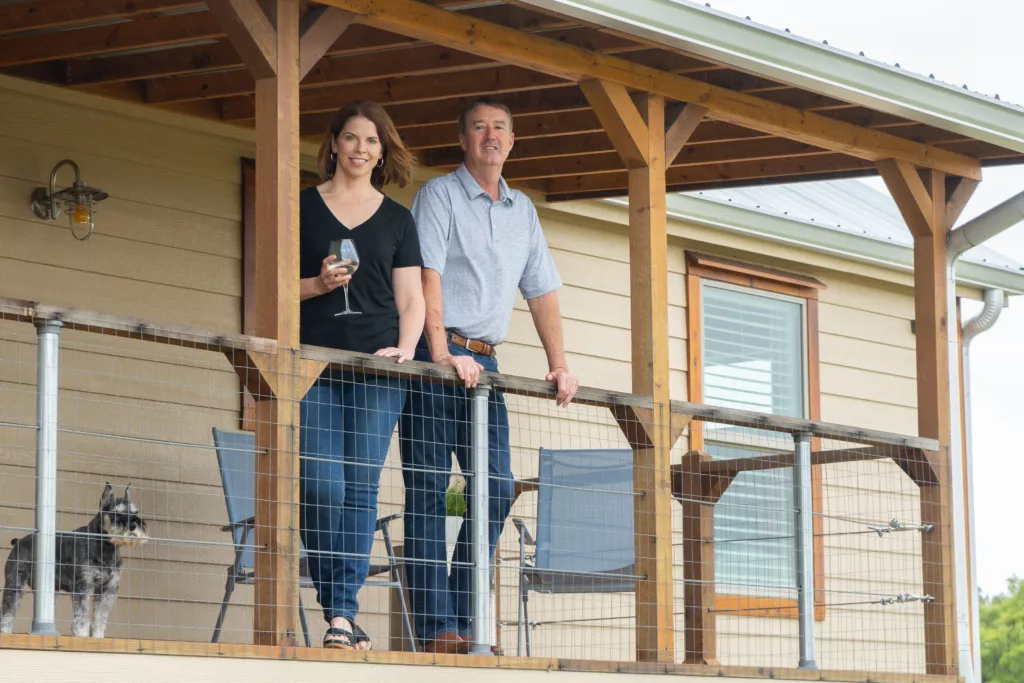 Jim now spends quality time caring for the deer weekly, relishing in the cabin's coziness. "The coziness of this cabin makes me feel like I could live here permanently," he admits. Jodie describes their Ulrich cabin as "cute as a button" and a happy place. The Sands family now enjoys more quality time together, while friends and extended family love to visit their picturesque ranch.
Considerations
Owning an Ulrich ranch cabin in Texas is a one-of-a-kind investment offering many benefits. From quality craftsmanship to customizable designs, Ulrich cabins are unparalleled in their beauty and versatility. Here are just a few reasons why the Homestead cabin is the ultimate choice for your dream home: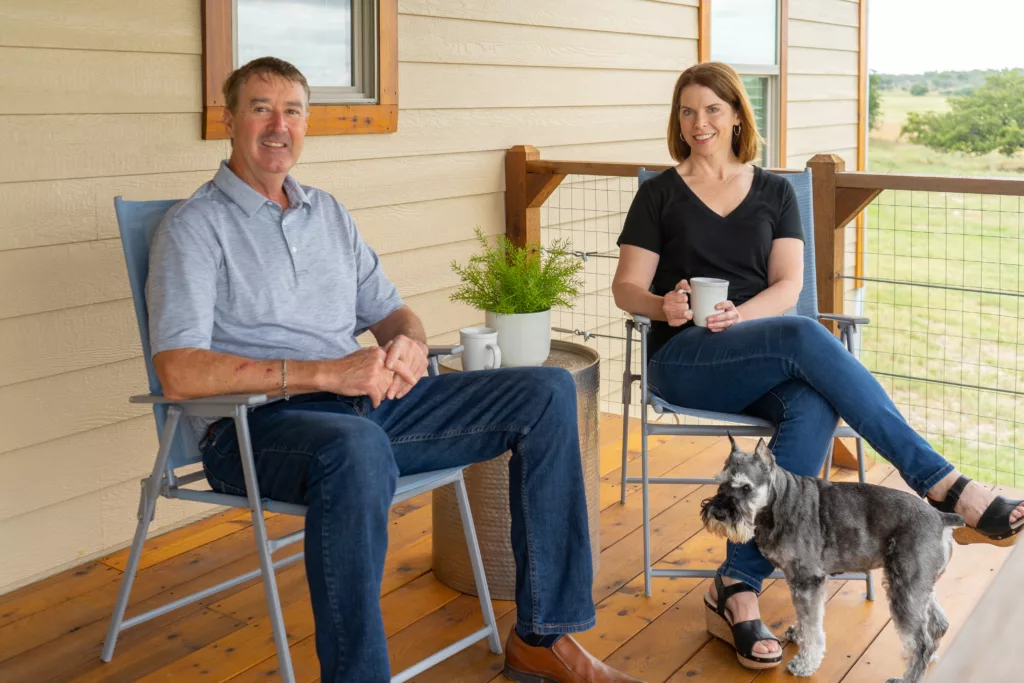 Craftsmanship beyond compare – Ulrich cabins are not just structures; they are masterpieces of craftsmanship. Each cabin is meticulously crafted using premium materials and construction techniques, ensuring durability and longevity that can withstand the test of time.
Customizable designs – We offer various customizations that allow you to choose the size and design that fits your lifestyle. You can select the layout and customize the finishes to design a cabin that's unique to your preferences. This versatility allows you to create a cabin that meets your specific needs.
Resilience in every climate – Texas is no stranger to severe weather, including thunderstorms, hurricanes, and even tornadoes. Ulrich cabins are constructed with a deep understanding of the state's climate patterns, using durable materials and robust construction techniques to withstand the elements. These cabins are engineered to stand firm against strong winds, heavy rainfall, and other natural forces, ensuring you and your loved ones remain safe and secure.
Enhanced outdoor living – Ulrich cabins often have generous outdoor living spaces like porches, decks, or patios. These outdoor areas provide an excellent extension of your living space and allow for enjoyable outdoor activities, such as relaxing, entertaining guests, or simply appreciating the natural surroundings. The inclusion of outdoor living spaces adds tremendous value to your cabin experience.
Value addition – Investing in an Ulrich cabin isn't just about enhancing your lifestyle but also investing in your property's value. A well-built, thoughtfully designed cabin can increase the appeal and desirability of your property, making it an asset that holds its value and offers returns in the future.
Conclusion
Jim and Jodie Sands' inspiring journey showcases the transformative power of Ulrich in helping them realize their dream of a deer ranch cabin in Texas. The convenience of customization, impeccable craftsmanship, and hassle-free delivery all contributed to their heartfelt satisfaction. Whether you dream of a rustic getaway or a cozy cabin in nature, Ulrich is the partner you can trust to bring your vision to life. Start making your dream cabin a reality today with Ulrich. 
Upgrade Your Space: Secure a Free Shed with Your Cabin Purchase Today!
Are you dreaming of owning a cabin getaway to escape the hustle and bustle of everyday life?
Choose from a wide range of cabins priced from $5,000 to $200,000, and receive a whopping $10,000 Shed Credit for cabins above $200,000! Imagine having your cozy cabin, surrounded by nature's beauty, with an additional shed for storage, a workshop, or even a separate guest house. 
Our cabins come in all shapes and sizes, from rustic to modern, so that you can find the perfect match for your style and needs. And with the added Shed Credit, you can make your cabin a unique space that caters to your hobbies and lifestyle. Build your dream cabin now!