Have you ever wondered what an Ulrich Cabin is like? Whether you have one question or a hundred questions, we've compiled a list of the top 10 most common questions we receive about our cabins.
The answers to these questions are given by our in house cabin expert, Brian Pokrifcsak. Brian has worked in the land selling and home building industry for over 30 years and his experience and expertise allow for great insight when it comes to learning more about Ulrich cabins.
After reading this article, you will have an understanding of who we are, what we build, and the answers to all your cabin questions.
To begin, let's answer one of the most common questions people have about our cabin homes.
1. How much does an Ulrich cabin cost?
There are 5 areas that control the price when purchasing a cabin home.
 Size of cabin – The biggest factor that affects price is the size of your cabin. Think about the purpose of your cabin and the amount of square feet you will need.
Number of bathrooms – The amount of bathrooms in your cabin influences the price based on the fixtures we install in each one.
Choice of Heating/Cooling Systems – We have options on the heating/cooling systems that vary in price and it is your preference which one you select
Amount of Cabinetry – We custom craft and build all of the cabinetry that goes into each cabin. The amount of cabinetry you select affects the price of the cabin.
Porches/Skirting options – Depending on the type of porches and skirting you choose, those additions factor into the price as well.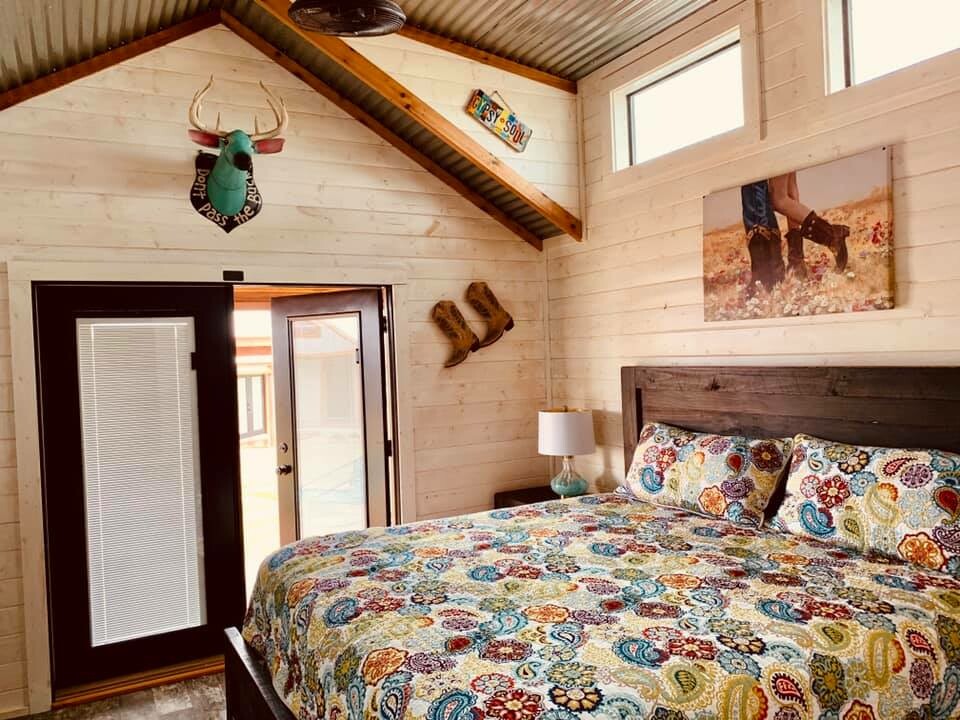 2. How long does it take to build an Ulrich cabin?
Typically, lead times on our cabins are between 14-16 weeks. It does not take that long to actually build the home; in fact, most of our cabins we can knock out in about 4 weeks! The lead times we give are based on the overall construction from start to finish considering everything from beginning to end.
3. Is an Ulrich cabin turnkey?
Yes, these 100% stick built homes built offsite and brought onsite are completely turnkey. The only thing the customer is responsible for is making connections to their water, electric, and septic system on their land. The land must also be a site ready for delivery with no big obstacles in the way of where the cabin will be set up. We typically need 20 feet height and 20 feet width clearance to bring a cabin onto your property and install it above ground on a pier and beam style foundation.
4. What area do you deliver the cabins to?
We deliver throughout the state of Texas as our cabin park is based in Cleburne, Texas. In the state of Texas, there is a small delivery fee to bring your cabin to your land. We do make exceptions to deliver out of state and have done so before. Delivering a cabin outside of Texas is possible but outside of our normal delivery range. The further from our location in Cleburne TX we are traveling to deliver, the more the cost of the cabin is affected. That being said, we have delivered our cabins as far as California and Arizona! We will make an exception for customers out of state if it makes good business sense for us and for you.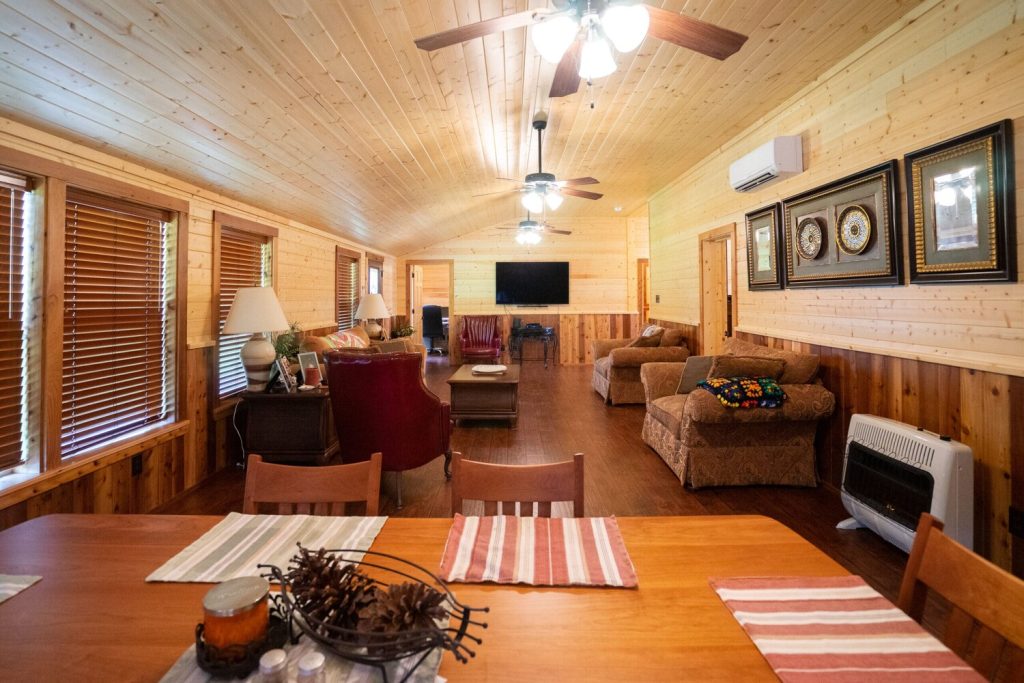 5. Does Ulrich finance the cabins?
We do not offer in house financing on our cabins. We do have a network of preferred lenders that are very competitive and understand our process. We have a good relationship with these lenders as we have worked with them before to finance our cabins. If you have a bank you know and trust, whether that's a small credit union or your local bank, we recommend going through them to get your cabin financed.
6. What are the requirements to start construction?
The requirements to start construction on your cabin involve land, time frame, and payment. The ownership of your land as well as a time frame that fits our build schedule are important to consider before starting construction.
For payment, we take 50% of the payment down when the cabin is first ordered. The next 40% is taken once the home is complete. Lastly, two additional payments are collected once we finish porches, everything is complete, and you are 100% satisfied with everything.
7. How are the cabins classified?
They are not modular, manufactured, or mobile homes. They are 100% stick built homes built off site and brought on site. 
They are not classified as mobile homes because they are not built on a trailer and do not sit on axles. They are not classified as a manufactured home because you are not limited to 7-10 floor plans to choose from. We allow you to customize your floor plan. We build a rustic wood product, a 100% timber built home. No sheet material on the interior is used.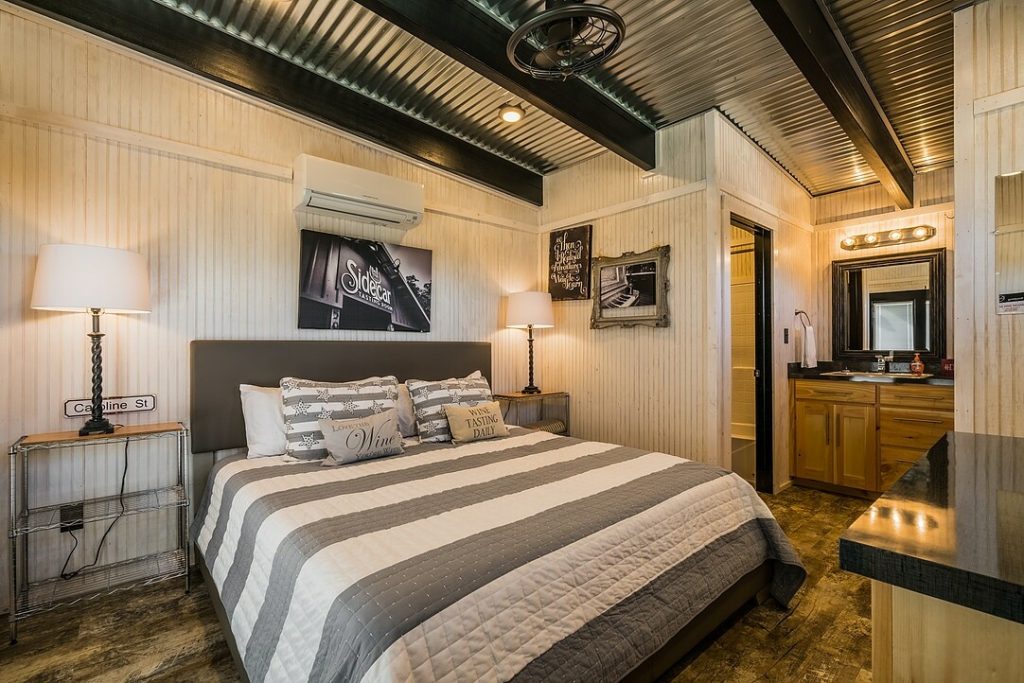 8. What options do I have in customizing my cabin?
The options you have when customizing your cabin include the exterior finish, roof type and color, cabinetry, bathrooms, windows, interior finishes, paint colors, floor colors, porches (how many and what type – railing or no railing).
You are custom building a home with choices that we guide you through to select options that fit your lifestyle and desires for your home.
9. How is an Ulrich cabin delivered and installed?
We deliver the cabins using our special equipment that is designed to move the entire house down the road and on to your site. We install it on an above ground pier and beam style foundation system.
10. Where are the Ulrich cabins built?
We build out of Cleburne, Texas. We have a model home park that currently stages 5 of our cabin models. The cabin park is open Monday through Saturday from 10am – 4pm. Closed on Sundays.
There you have it! The top 10 questions and answers about Ulrich cabins are now a part of your knowledge base and will help you in your research and understanding of Ulrich cabins. 
We have been in business for over 30 years and are proud of who we are and what we build. We do not take shortcuts on materials at any level as we believe it doesn't take that much more to do it right. We use the best of the best materials and ensure a quality product from start to finish.
Come out and see our homes at our model home park so you can see who we are, what we build, and how we may fit your lifestyle with an Ulrich cabin.