The Grand Estate Pavilion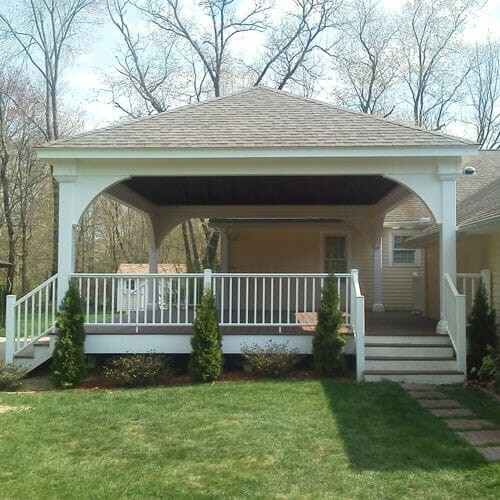 Not available in this area
One of the chief attractions of the Grand Estate pavilion is plenty of space to install an outdoor kitchen, fireplace seating area, or pool-side bar without sacrificing seating and comfort. Superior engineering eliminates the need for additional supports–the Grand Estate supports up to 24' free-spans! Match your look with a choice of wood or vinyl.
The Grand Estate Pavilion is the perfect oasis for personal hosting, or for professional venues entertaining bigger parties and extended family gatherings. It's a grand place to bring the party together without worry about the rain or sun. Now you can focus on what you care about–being together with those who matter most to you.
(function e(){var e=document.createElement("script");e.type="text/javascript",e.async=true,e.src="//staticw2.yotpo.com/JVPNH5SPg1npUzEs1Og5ESM2psH9aLawoQ4W6Rf3/widget.js";var t=document.getElementsByTagName("script")[0];t.parentNode.insertBefore(e,t)})();
Price Range: 
$2,500- $6,400
Uses: A storage or tool shed 
The simple design is our basic shed model
Even if your just looking for basic storage, a quality building will matter. With a 10 year warranty we have you covered for years to come and can give you the peace of mind knowing your belongings are safe and secure.
Price Range:
$6,700- $16,700
Uses: A garden shed or workshop
The classic model provides additional space
With additional security and framing options, take your storage to the next level. Up to a 15 year warranty and additional siding options all allow you to have your things safe, and look good while doing it!
Price Range:
$20,800- $37,500+
Uses: A She shed, man cave, or home office
The upgraded model includes additional features
Have more then your average shed can fit? Have a need for storing heavy machinery or a lot of tools? Opt for one of our larger buildings that come with the same quality and warranties as comfort, just in a bigger package! No matter the size needed we can have you covered and your stuff protected for years to come!
Price Range:
$30,000- $80,000+
Uses: A studio or guest quarters
Our enhanced option can be finished out on the interior 
The absolute best is all you will settle for, and that's what you get with the Luxury. Upgraded siding options, Finish-out ready or finished out completely (minus plumbing), a 20-year warranty this is the top of the top. You will be the envy of your neighborhood whether your using this for an upgraded storage solution or a home office or anything in between it doesn't get better then this!