Not available in this area
We manufacture a complete lineup of oilfield man camps, oil field offices, oilfield housing, executive oilfield housing, bunk houses, washrooms, laundry rooms. Please call now to discuss your needs!
Size Range: 

216-2,000 sqft

Bedrooms: 

1-8

Bathrooms: 

1-4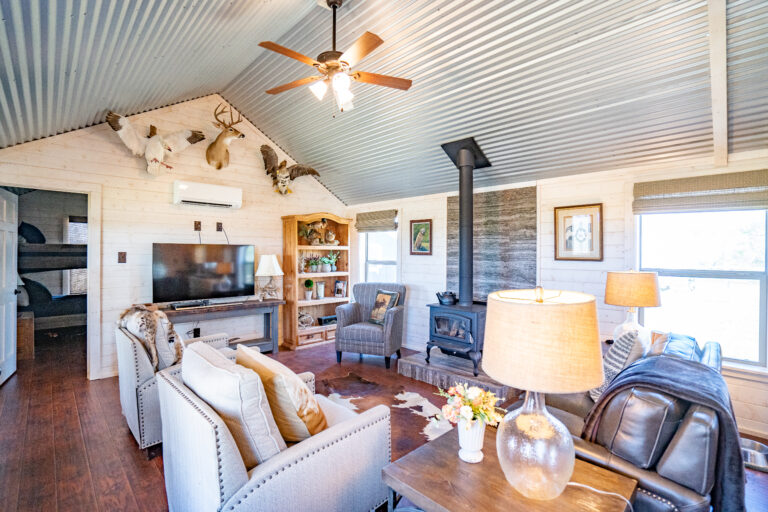 Designing your cabin with Ulrich is a smooth and straightforward process. Our cabin designers are experts in their craft and will work with you to design the perfect layout and help you choose the best options for you and your needs. They will offer design suggestions and show the cabins we have built before and how you can customize your own.
In the initial conversation, our cabin designers will ask you questions to get an understanding of the type of home you're looking to build. We have built cabins for a variety of purposes and are happy to learn more about your needs and how we can build the perfect cabin for you and your family.
The next step is to schedule a design session with your cabin designer to continue discussing your vision and draw up the floor plans and choose design options. The cabin designer will correspond with you during the process and will update the plans, making changes until we have arrived at the final design you are completely satisfied with.
Below are the options we have when designing your cabin. You can start to envision what your cabin will look like and make notes of the options you like.
The flooring in our cabins is 100% waterproof vinyl flooring. There are several tones you can choose from depending on your style.
The most common flooring tones we offer are Sequoia and Pecos. Sequoia is our standard flooring. Anything other than Sequoia is an additional cost. 
Each flooring tone is pictured below.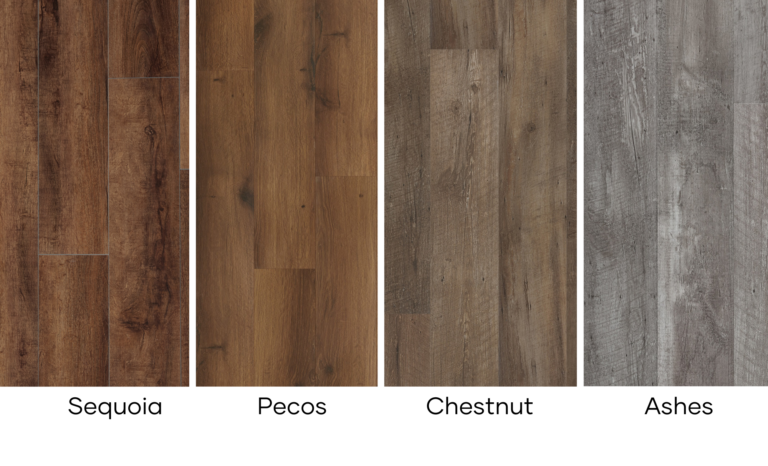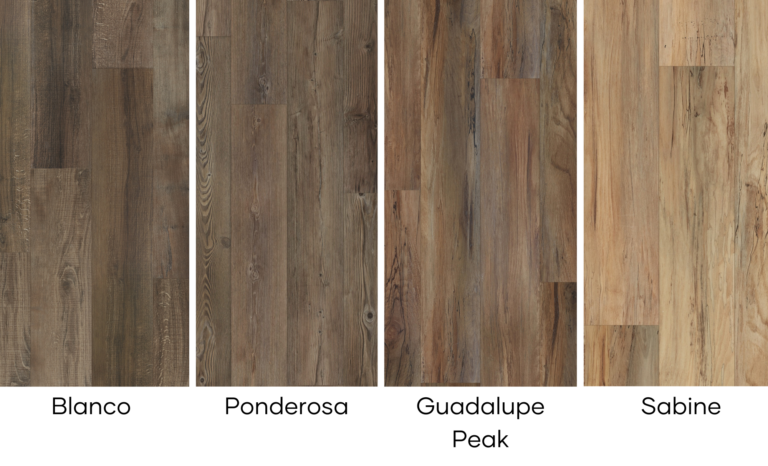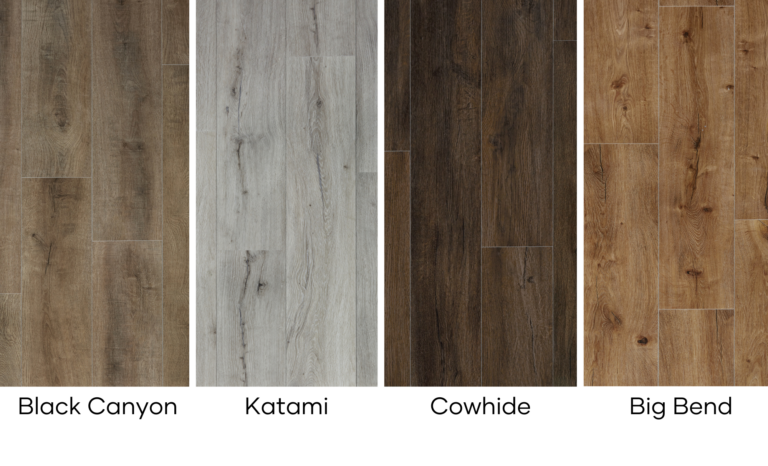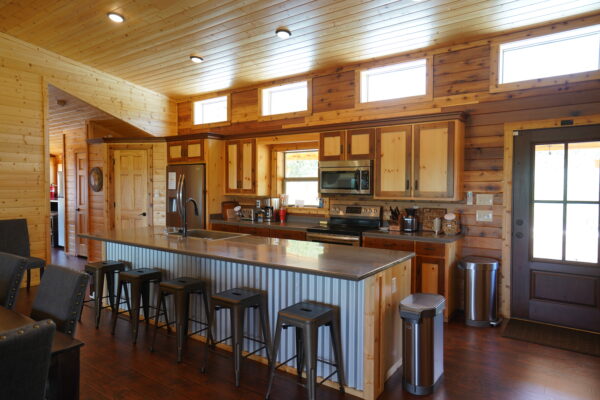 The kitchen is the heart of the home. We believe your kitchen should be an inviting place to cook and make memories. To design your ideal kitchen, see the options below and work with your designer to create the perfect space.
We offer kitchens in the following designs:
Standard (including our custom upper and lower cabinetry)

Standard with upgrade (island)

Standard with upgrade (bar with seating for 3-4 bar stools) 
Our kitchen appliance package includes an electric or gas range stove, a microwave, and a dishwasher. 
The kitchen sink we install is a farmhouse sink. 
Our custom cabinetry is solid wood. Pine wood is the material used in the cabinets. You can choose between all pine or pine with cedar trim. They are cut and crafted directly from our Cleburne factory and installed in the cabins from there. 
The countertops are Formica and come in three tones. The standard option is a laminate countertop. The standard colors for those are Cosmos Granite, Rustic Slate Granite, & Bahia Granite. 
You can also upgrade to a "Solid Surface" and you can select from over 50 options (depending on availability). The material is a solid surface (in the quartz family).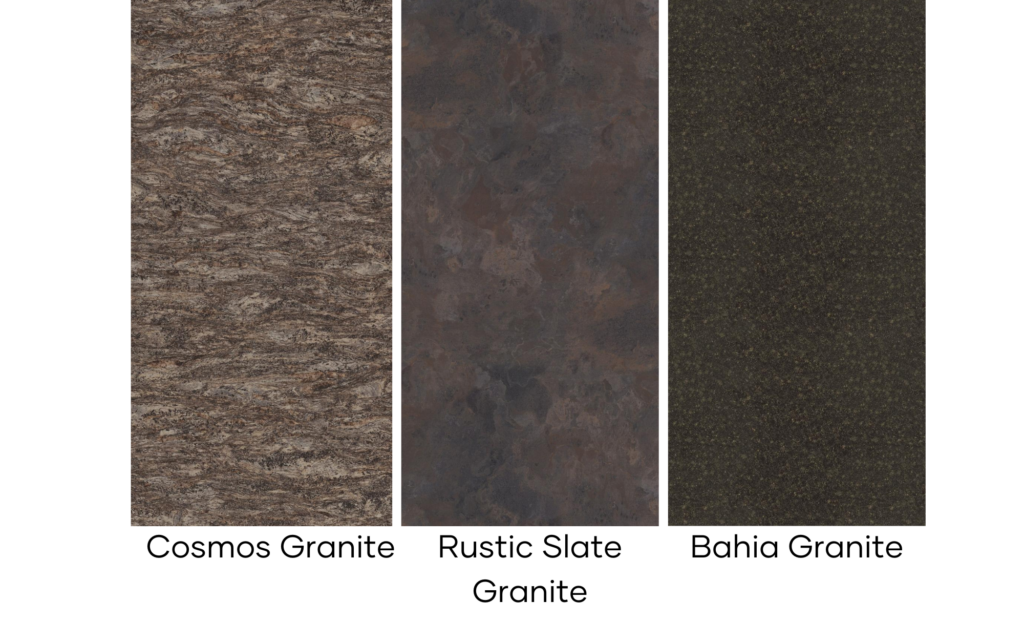 The bathrooms in your cabin have the following options:
The brand of the bathroom fixtures is Delta.

Showers 
3 foot (36 inch)

4 foot (48 inch)

5 foot (60 inch)
Tubs
Toilets 
Taller (17-18 in) toilets
Standard sinks and countertops are brushed bronze hardware.
The handles on cabinets and sink faucets is a brushed bronze finish.
Bathrooms include an exhaust fan and vanity lighting.
Roofing, Doors, and Porches
We offer metal roofing in twenty colors. 
Doors:
You can customize the entryways to your cabin and make each entrance a welcoming threshold. We offer the following door options:
TX star door

French doors

Craftsman door
Porches
To discover your porch needs, your designer will ask some questions:
How much time do you enjoy spending outside?

How many people would be enjoying time outside with you?

What kind of porch seating will you have?
We can do full length porches, wrap around porches. The porch design is based on your desires and built to your needs.