Everything You Need to Know About Prefab Cabins
Whether you are looking for a new home or a private getaway, prefabricated cabins from Ulrich can provide a comfortable space that satisfies your needs.
What Does "Prefab" Really Mean?
In a traditional sense, the term prefabricated, often shortened to "prefab," refers to structures that are assembled off-site and delivered to a desired location. Traditionally, prefab cabins are more modular, in that they are built in parts or sections which are assembled onsite.
Prefab rustic cabins from Ulrich are built to completion in our climate controlled facilities, ensuring they are up to code and meet customer expectations. We deliver these fully-assembled cabins directly to our customers' property.
Our standard for prefab cabins entails complete construction prior to installation, allowing us to maintain high standards of quality and achieve quick production turnaround. Upon delivery, we
Our Prefab Log Cabins Are Not Cookie Cutter Models
With several standard base cabin models, the Ulrich team is dedicated to supplying our customers with cabins that are designed specifically for them. We suggest the perfect solution and then customize each rustic cabin based on the needs and desires of our clients to ensure their cabin is in line with what they want. We allow floor plan customization that aligns with customer desires, who we are, and how we build.
We'll Handle The Construction and Installation – No DIY Necessary
When you buy a cabin from Ulrich, we'll collaborate with you on the design and layout to make sure it fits with what you are looking to accomplish and what we can build. Beyond these conversations, you don't need to worry about anything else, creating the most headache-free building experience in the market.
We will take care of constructing your new cabin, delivering it to your site, installing it, and conducting a final inspection to verify that everything is in working order. Unlike other modular and prefab cabins, there are no DIY elements, so you can leave the heavy lifting to us.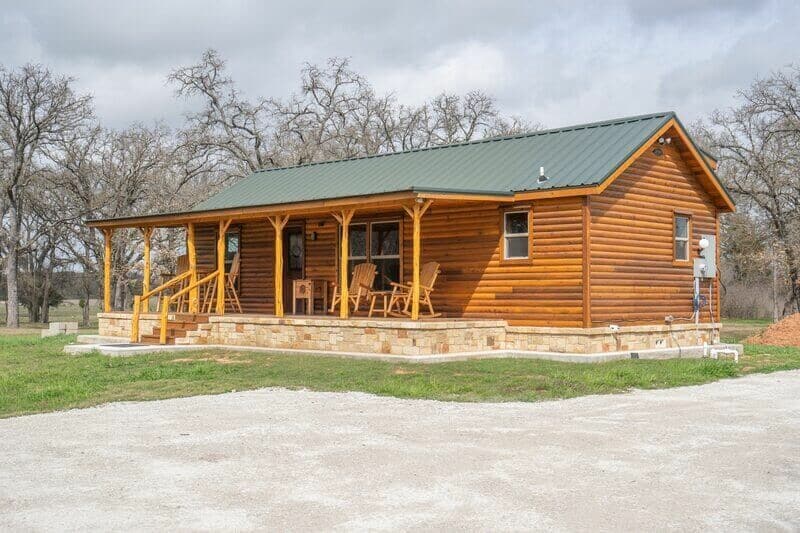 Best Uses of Prefab Cabins
Our stick-built prefab cabin homes are perfect for a variety of applications. With customization options for every standard model, you can trust that your Ulrich cabin will meet your needs no matter where you want it installed or how you want to use it.
You don't have to rough it when you go on hunting trips. Prefab hunting cabins can offer you comfort, protection from the elements, and a home away from home in between excursions.
With prefab camping cabins, you can enjoy the outdoors and your hunting trips while also spending downtime in a comfortable setting. 
If you are starting with a plot of land, such as a ranch or several open acres, an Ulrich prefab cabin makes an excellent starter home. Prefab homes in the form of log cabins provide a comfortable amount of space as well as more freedom than an apartment or other rental property.
In the event that you want to grow your family or expand your home for other reasons, the Ulrich team can help you manage such additions, like we did for this couple in their Bear Lake cabin. 
Prefab vacation cabins from Ulrich are the perfect getaway. Whether you want an outdoorsy retreat or a weekend home on a farm or ranch, our prefab cabins are excellent when used as a comfortable second home.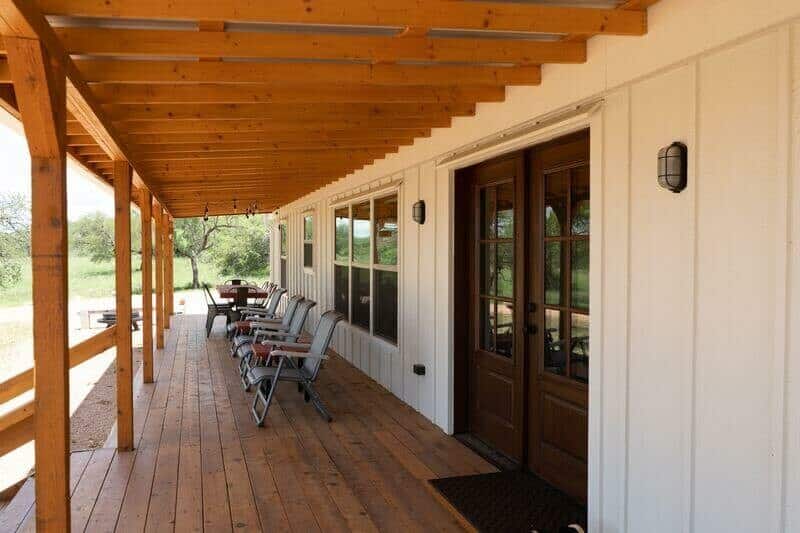 Nestle a prefab mountain cabin in a forested area for a natural getaway. Whether you enjoy fishing, hunting, hiking, kayaking, or simply escaping to the woods on occasion, prefab vacation cabins in the mountains are great for enjoying nature in comfort and style.
If you invest in an Ulrich cabin as a weekend getaway, vacation spot, or second home, you can also rent it out when you aren't using it. Our custom cabins are designed for your comfort and satisfaction, so you can trust that any guests who stay in your cabin will love it, as well.
If you are in need of a dedicated professional space, a prefab cabin can provide you with ample room to focus on your work. Using a cabin as an office can help you achieve a better work/life balance by keeping your professional and personal lives separately while also providing you with the amenities you want, like private bathrooms and kitchen spaces.
Living off the grid doesn't mean you need to commit to a primitive lifestyle. With prefab off grid cabins from Ulrich, you can have plenty of space to settle down in nature without compromising your comfort.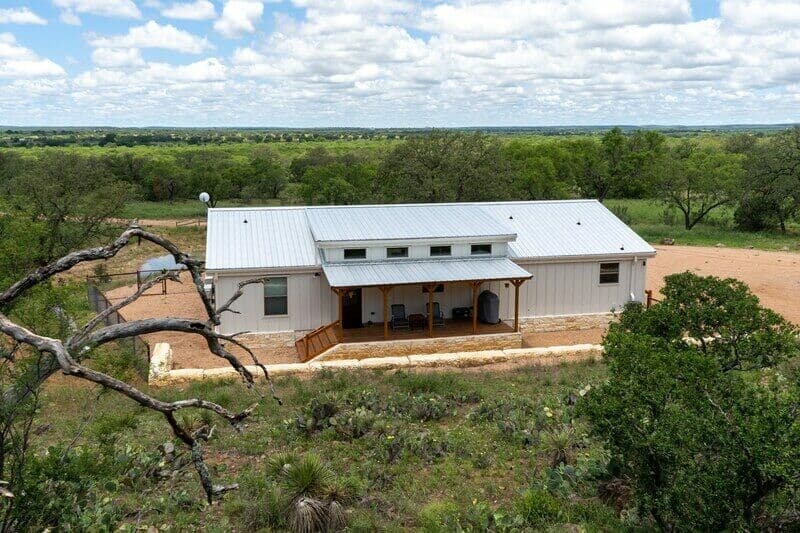 While designed as residential structures, some customers have chosen to transform their prefab cabins into homes for their small businesses. These cabins can be customized to accommodate your specific needs, from small office spaces to manage accounts to larger, open rooms for hosting clients.
Depending on the nature of your business, our designers can work with you to design a cabin that fits your needs. 
Using a prefab small log cabin on your property as a guest house is a great way to accommodate family and friends who stay the night. A prefab ADU, or accessory dwelling unit, can also provide a convenient space for unexpected guests and sleepovers with your kids.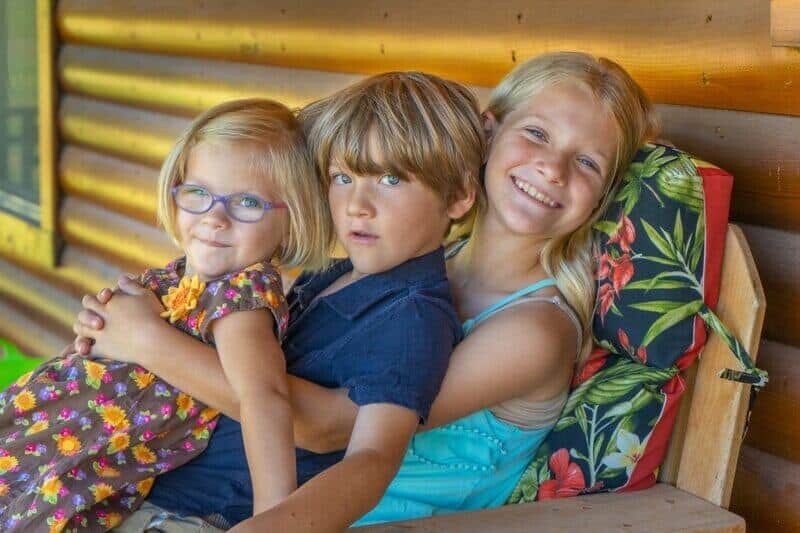 Also known as a mother-in-law apartment, this type of residence is typically built into an existing home to provide an attached living space, often with its own entrance. You can adapt a prefab cabin into an in-law suite without needing to renovate your home or use up more of your available space.
We offer cabins in a range of sizes to suit all of our customers' needs. Whether you are looking for a small, manageable first home or you want to downsize your life, we can design prefab tiny cabins that are fully insulated and fully finished.
Tiny prefab cabins from Ulrich are a great alternative to site-built houses you might find on the market. 
Luxury Prefab Wood Cabins For Every Aesthetic
Our team understands how important appearances can be. We don't sacrifice function for aesthetics, and we will work with you to find the perfect design.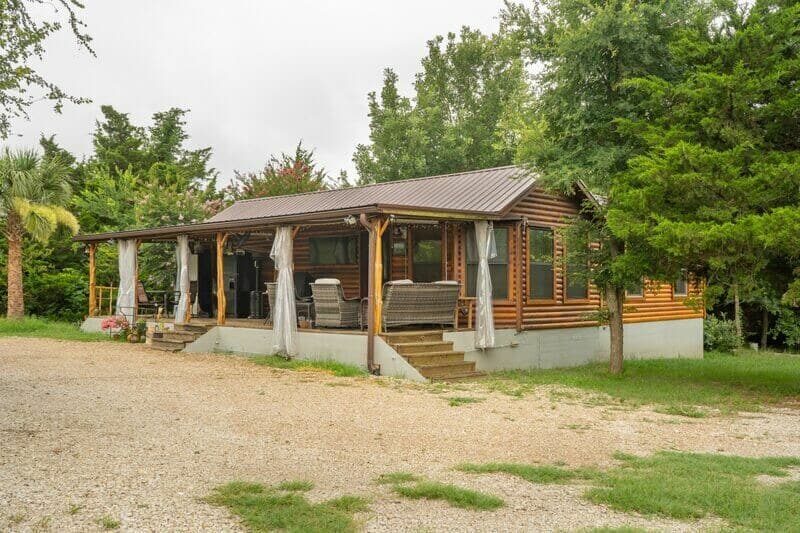 We do not offer traditional prefab a-frame cabins, but we can help you design a cabin that appeals to your aesthetic values and provides the amenities and unique features you want. You can design simplistic cabins or even purchase prefab cabins with a loft.
When you work with our designers, you will learn about the many design possibilities for your prefab log cabin, and based on your interests and preferences, they will come up with a design that meets your needs. 
At Ulrich, we specialize in a range of cabin styles so that you can enjoy the appearance of your cabin as well as its functionality. Our most popular styles include:
Rustic
Traditional
Modern
Farmhouse
Industrial
Shabby chic
From prefab mini cabins to larger, 3 bedroom prefab cabins and everything in between, Ulrich is happy to help you design a cabin that suits your specific needs and desires. 
"2 bedroom prefab cabins"
"one bedroom prefab cabins"
Advantages of Buying a Prefab Cabin
When you buy a prefabricated cabin from Ulrich, you'll receive a high-quality structure that is stick-built in our climate-controlled facilities. Unlike other manufacturers, we specialize in delivering fully-assembled cabins that are custom-built to your preferences, though we will assemble sections of our larger cabins onsite in certain circumstances, as well.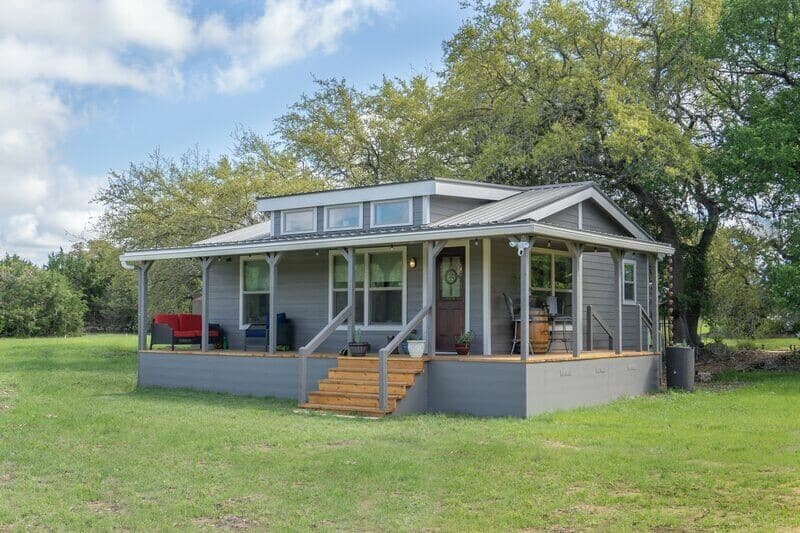 Generally speaking, not all prefab cabins will be code compliant. However, all of our cabins are always built to code so you can trust in their quality and durability.
Fully Finished & Insulated
With top-to-bottom insulation and efficient heating and cooling systems, our prefab cabins are designed to be comfortable in any climate.
Investing in a cabin can be a daunting task, so we strive to make the process as simple and clear-cut as possible. We will first learn about your goals, desires, and needs before moving onto the design process, where we aim to address these through custom features.
Then, we manufacture and assemble your cabin in our specialized facilities; if you do not have the space to have a fully-built cabin delivered on your property, we will still assemble parts of your cabin to ensure quality and satisfaction prior to delivery and installation.
Our team will work with you throughout the process to verify installation dates and ensure delivery and installation proceeds without issue. After a final inspection, your cabin will be all yours. 
We are customizable within our build specs, but we are not a custom home builder. With every client and cabin, we strive to create something that fulfills unique needs and desires, aiming for total customer satisfaction with every structure.
Precisely and Expertly Built
When it comes to ensuring top-quality and satisfaction, we make sure that our team is fully aligned with our values. As such, we do not use subcontractors for production; everyone who works on our structures is an Ulrich employee.
Our factory is a secure, climate-controlled environment, reducing the potential for weather-related delays and helping us maintain consistent quality standards. Additionally, we employ specialists who focus on particular areas, such as roofing and painting, to promote consistent product quality and reduce lead time. 
Should You Choose A Prefab Cabin or a Modular Cabin?
At Ulrich, all of our cabins are stick built to exceed industry standards and achieve the highest quality end product. We specialize in delivering fully-constructed prefab cabin homes to your property.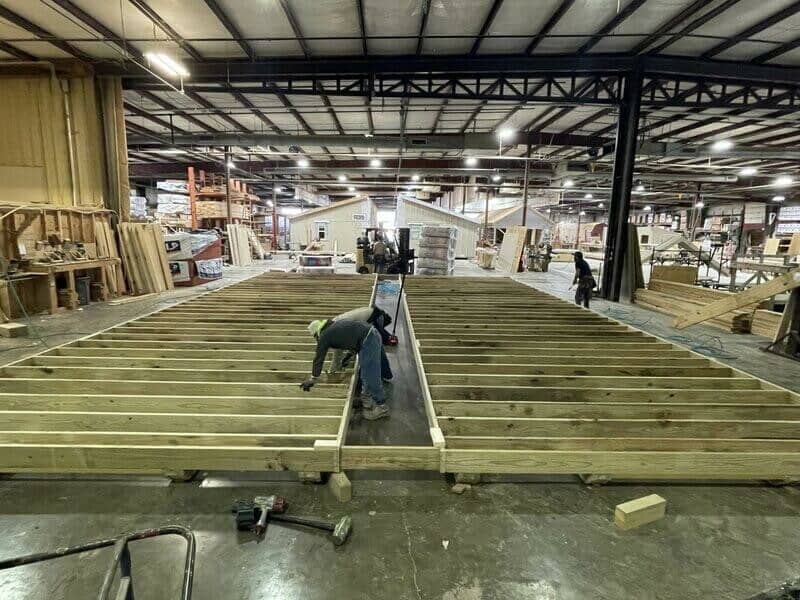 Purchasing a prefabricated cabin does not mean you will receive a ready-made pre-constructed model; all this means is that we will build your cabin in our facilities and deliver the fully-built product to you.
There are many benefits to purchasing a prefab cabin from Ulrich. Our state-of-the-art facility allows us to safely and efficiently construct custom cabins to our highest standards without delays.
We build our prefab wooden cabins strong so that they can not only endure harsh weather conditions over time but also so they can withstand the stress of being transported to your property intact.
If you are worried that you may not have the space needed to accommodate the delivery of an assembled cabin, we encourage you to contact us. With more than 30 years of experience, we are confident that we can come up with a creative solution to get your prefab cabin delivered and installed with minimal hassle. 
Modular cabins are similar to prefabricated models, but they are not fully constructed prior to delivery and installation. Instead, modular cabins are produced in parts or sections and later assembled onsite.
We only produce modular models for our larger models. In these situations, we deliver our cabins in two parts, at which point they are about 90% complete. Upon delivery, we finish the flooring and exterior siding onsite to prevent seams.
We will also build porches onsite once we have delivered and set up the cabin.
Unlike other builders, our prefab cabins are fully-built in our facilities for quality assurance purposes. Only in select cases will we deliver modular models, the sections of which will be assembled to meet our quality standards in our facilities. 
Important Considerations to Make Before Buying a Prefabricated Cabin
Investing in a cabin is a great way to give yourself a space for relaxing, housing company, or even working. Before you commit to a prefab cabin, you should learn about the broad options available so you can make an informed decision.
The size of your cabin will depend on a few factors, such as your intended use of the cabin as well as your budget. You may prefer small prefab cabins for your property if you want to use your cabin as a guest house, hunting cabin, home office, or studio. A larger cabin will usually be better suited for a starter home or lake house.
Even if you are considering prefab small cabins, you may find that your budget still allows you to make use of the space with the addition of a loft or a porch.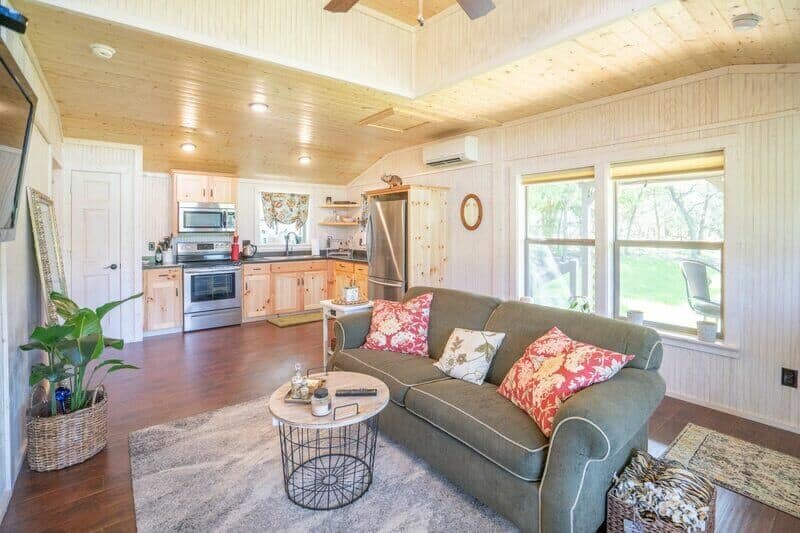 When it comes to choosing a location for your cabin, it is important to pick an open space that a truck can easily access. The size of your cabin will also impact where you will be able to install it.
Beyond these limitations and requirements, a relatively flat spot will be ideal for installing your cabin. We will take care of delivery, installation, and leveling to ensure your cabin is properly situated and ready for use. 
Not all cabins are made equal. At Ulrich, we build our prefab cabins to meet standards of quality and durability that exceed industry standards.
We've cultivated decades of design experience and more than 200 years of combined industry experience to build a foundation of quality and expertise that our customers can trust. 
While the function, stability, and overall quality of your prefab cabin are incredibly important, you will also want to consider the styles you like and the design elements you prefer. Whether you are interested in the use of specific materials (as with prefab cedar cabins) or the inclusion of certain amenities (such as multiple bathrooms or lofts), knowing what you like can help you work with a designer to create a custom cabin just for you.
It is important to consider your budget when deciding to invest in a cabin. Quality and longevity should be critical factors you prioritize, which often correlates to higher costs. 
With cabins from Ulrich, we strive to design high-quality structures that will last over time, and we will work with you to identify the most cost-effective and suitable solution.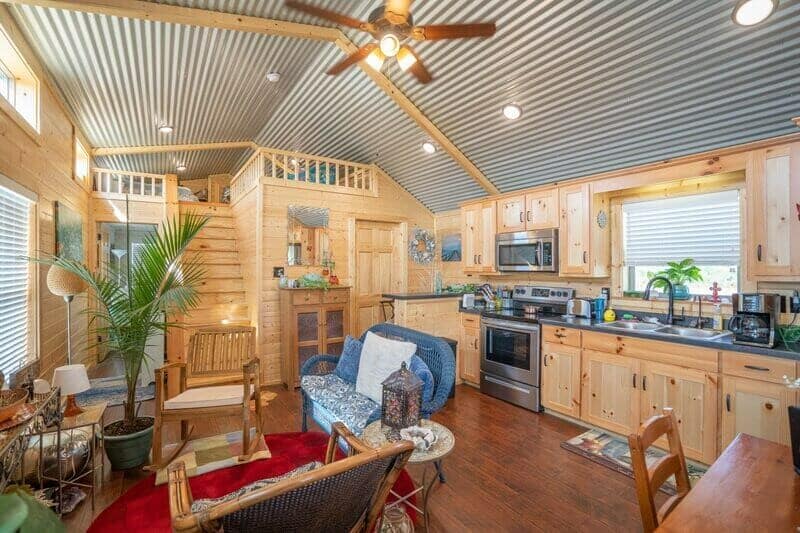 Your Financing Options for A Prefab Cabin
For payments, we typically require a down payment at the time of your order, followed by a scheduled draw payment for the remaining balance upon completion of the project. However, if you would like to obtain financing for your prefab cabin, a payment plan through bank financing is usually a good way to go.
We do not offer in-house financing, but we do have a preferred lending network for your convenience. You can also contact our team to learn more about financing options for different structures. 
How Much Do Prefab Cabins Cost?
When you work with our team, we will initially provide you with a base estimate for the model of your choice. The final pricing of prefab log cabins will depend on factors such as customizations and upgrades you choose.
Work With A Designer to Build Your Dream Log Cabin Now
At Ulrich, our team is dedicated to collaborating with you on a design that meets your needs and satisfies your desires. When you work with one of our designers, you will be able to discuss what you want out of your cabin, how you want to use it, and what you hope to get out of it.
We are confident that we will help you identify exactly what your dream cabin looks like. 
Why Choose A Modern Prefab Cabin Over A DIY Cabin Kit
Choosing between prefab cabins and cabin kits can be difficult without the right knowledge. However, there are many disadvantages to choosing a DIY cabin kit, and it is important to recognize these downsides before making a purchase.
Paragraph (save upfront on cabin kit but still pay a lot for tools, foundation, equipment, etc.)
In most cases, cabin kits are available at a lower price point than prefab cabins, which can seem appealing at first. Cabin kits, however, can end up being much more costly than you expect.
When you purchase a cabin kit, you will usually find that you need to acquire additional materials in order to safely and properly assemble the cabin. These include tools and equipment, as well as the materials and resources needed to put down a foundation.
Additionally, cabin kits can cost you time and labor, demanding more of you than a stick built cabin. Cabin kits are also lacking in quality and durability because they do not use the best materials.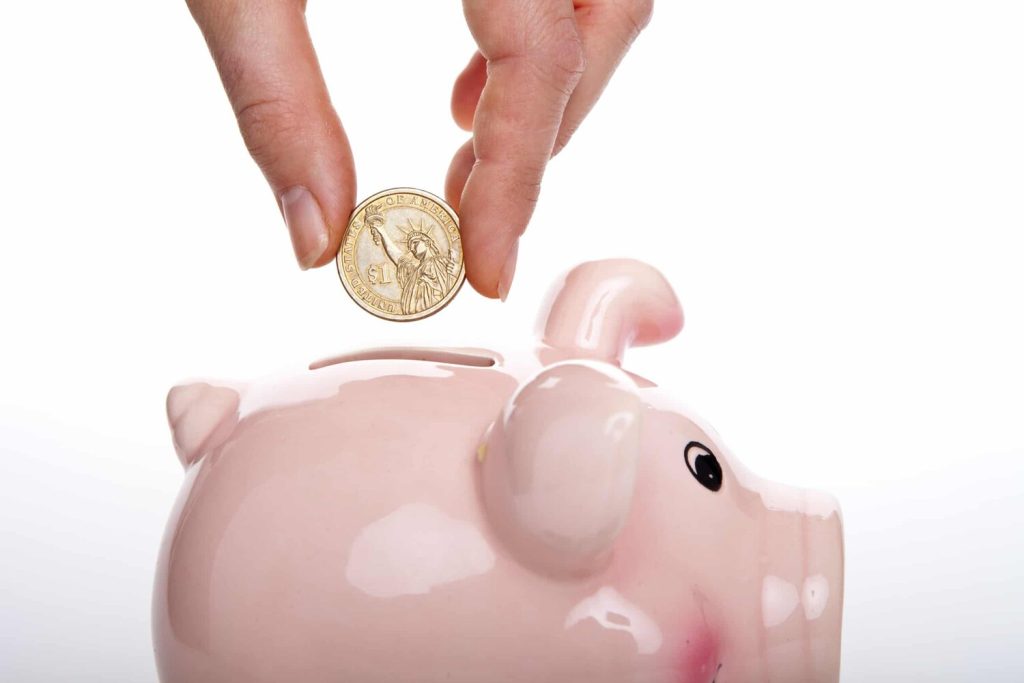 Buying a cabin kit may mean you can save some money, but it also means that you will need to dedicate months of independent work to the construction of the cabin. If you do not have the tools, experience, or expertise to accomplish this yourself, you may also need to hire contractors or professional laborers, adding to the total cost of your cabin.
Buying a prefab cabin means you can save time and energy on a high-quality cabin. Ulrich typically requires up to 19 weeks for construction, delivery, and installation of custom cabins. With a cabin kit, you could spend much more time working on a sub-par structure. 
Assembling a cabin kit requires a broad range of specialized skills for proper installation. Buyers must be equipped to handle tasks involving woodworking as well as plumbing and electrical work. If they do not have the skills or experience, they will need to hire professional laborers, adding to the cost and extending the timeline of completion depending on availability and project intensity.
When you buy a prefab cabin from Ulrich, we do not require you to do any work yourself. We handle the production of materials, cabin assembly, and the delivery and installation of your cabin.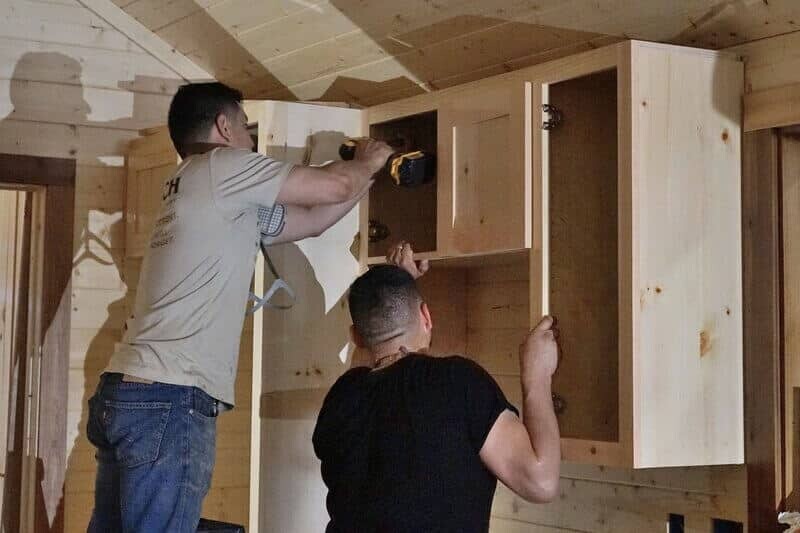 The Hidden Costs of Cabin Kits
The low initial cost of cabin kits can be appealing, but there are so many hidden costs that make these kits a time-consuming and exhausting purchase.
Buying a prefab cabin from Ulrich will save you time, energy, and resources, and you will also receive a higher quality cabin that will last much longer than a cabin kit would. 
What To Expect After Ordering a Prefab Cabin From Ulrich
Our process is simple and effective. After you order one of our cabins, we will work with you to ensure your needs are met and you will be satisfied with the end product.
We are not here to just sell you a cabin; we are here to design you the perfect solution. We achieve this by speaking with you and identifying your true needs, wants, and desires.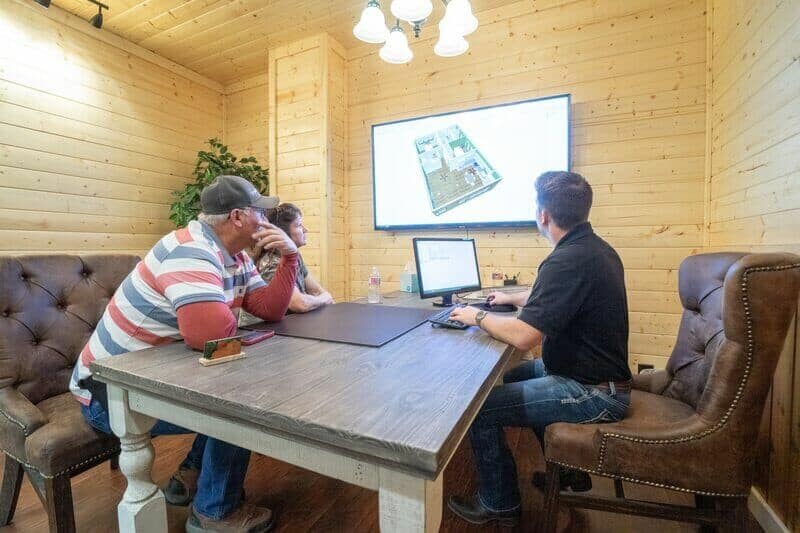 After the sale is finalized, you will be assigned your own personal project manager who is the liaison between you, our sales department, and our operations team. Your project manager will keep you well informed throughout the entire build process so there are no surprises.
We will build your prefab cabin in our climate-controlled facilities to ensure consistent quality standards. 
Final Walk-Through for Satisfaction
Before your cabin leaves the factory, we will do a personal walk through of your new home and make sure everything is built to your expectations.
On-Location Delivery and Installation
We will handle the logistics of delivering and installing your prefab cabin. Our customers are responsible for ensuring the site is prepared for these processes, however. Ideally, we will need 20 feet of height and width clearance. 
If this is not possible, you will need to let us know in advance; with 30 years of experience, we can innovate a creative solution and ensure the safe delivery and proper installation of your new cabin.
After installation, you will be responsible for arranging connections for water, electricity, and septic systems. You do not need to have these connections ready before delivery and installation, and in most cases, it is better to make these arrangements after your cabin has been fully installed.
As long as the area where you want to install your cabin is clear and has the appropriate clearance, there is no additional work needed. Ulrich will take care of installation from there.
Some additions and customizations, such as porches, require onsite work post-installation, and in these cases, Ulrich will completely handle the construction.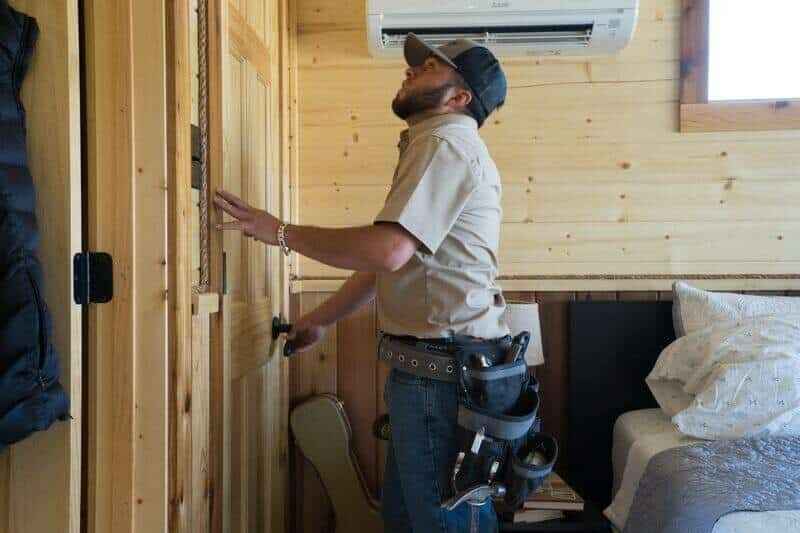 Frequently Asked Questions About Prefab Cabins
How much does a prefab cabin cost?
When you purchase a prefab cabin from Ulrich, we will give you a quote for the base model you select. However, the exact price of your cabin depends on a number of variables, such as:
The size of the cabin (ranging from 300 square feet to 2300 square feet)

Where the cabin will be placed

The number of bathrooms the cabin has

The heating and cooling systems used (Mini-Split is our most common choice for cabins)

The amount of cabinetry within the cabin (with custom cabinetry completed by Ulrich)

Any skirting or porches added to the cabin (completed onsite by the Ulrich team)
After working with our customers and identifying their exact needs and desires, we combine the variables included in the final design to generate a price. In most cases, our cabins range from $100,000 to $500,000 or more.
How do you prepare the ground to install a small cabin prefab?
Our cabins are pier and beam style homes. When we install your cabin, we use an above-ground pier system consisting of cement pads and blocks to ensure the cabin is level.
In most cases, our customers do not need to worry about preparing a site for cabin installation. All we ask is that they clear the ground of major trees or brush when possible; it is usually better to leave the ground undisturbed otherwise to prevent settling. 
How does a modular log cabin get built?
At Ulrich, we stick-build our cabins in a climate-controlled facility, utilizing only trade-specialized Ulrich employees rather than subcontractors so that we can better control the quality of our structures in a safe and secure environment.
Many of our clients have built houses before and know the headaches that a traditional home-building experience can cause. We want to give our customers peace of mind and satisfaction by delivering fully-assembled cabins to their site without any of the typical home-building hassles.
Unlike with modular cabins, we usually construct our cabins to completion within our facilities and deliver them intact to our customers' sites. Modular homes are more often built in sections and assembled onsite, which can result in weather delays and imperfect construction. 
How to choose a prefab cabin?
Choosing the right prefab cabin is essential for ensuring your satisfaction for years to come. There are three important considerations to make when purchasing a cabin.
Choose a builder with a good reputation, favorable reviews, and a demonstrable history (at least 10 years) of serving clients. 

Decide on your style. You want your cabin to be something you enjoy looking at and living in, so determine what styles you'd like to see, such as farmhouse, traditional, or modern.

Connect with a designer who is keen on learning about you, your needs, your goals, and what you envision for your cabin. A skilled designer, like the ones we employ at Ulrich, will be able to provide you with a design that satisfies all of these things.
Are prefab cabins good investments?
Not all prefab cabins are created equal, but we are confident that the quality and durability of our cabins make for a great investment. We build our cabins to a stick-built residential code to ensure they are of the highest quality, and like any other home, they will appreciate over time.
Other manufactured or modular cabins are often not built to the same standards, and when they are of a lower quality, these structures can become depreciating assets that ultimately lower your property value.
When choosing a prefab cabin, make sure you invest in trusted quality, longevity, and experience. If you are ready to start designing your dream cabin, get in touch with our designers today.